Sesame Street - Don't Eat the Pictures
(1987)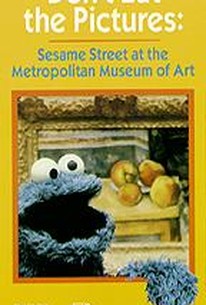 AUDIENCE SCORE
Critic Consensus: No consensus yet.
Movie Info
Rating:
NR
Genre:
,
Runtime:
Critic Reviews for Sesame Street - Don't Eat the Pictures
There are no critic reviews yet for Sesame Street - Don't Eat the Pictures. Keep checking Rotten Tomatoes for updates!
Audience Reviews for Sesame Street - Don't Eat the Pictures
And Starring the Metropolitan Museum of Art As Itself Rotten Tomatoes is lying to us. This did not come out in 1987. It came out in 1983. I know this to be a lie just from context within the story. You see, the whole chain of events starts in one very basic place. Big Bird (Carroll Spinney) goes off in search of Mr. Snuffleupagus (Martin P. Robinson), whom he has agreed to meet in the American Wing. And none of the adults take him seriously, because Snuffy was still, at that point, Big Bird's imaginary friend. However, by 1987, the Powers That Be decided that kids needed to know that grown-ups would believe them when they told the grown-ups things, it having occurred to people that maybe abused kids were told they were just making it up, too. So Big Bird got several years' worth of I Told You So. In fact, Wikipedia has a relatively sizable section about this, including the detail that it was in 1985. Anyway. So they're at the museum. It's Big Bird and Susan (Loretta Long) and Gordon (Roscoe Orman), Bob (Bob McGrath) and Linda (Linda Bove, whose birthday is today), Maria (Sonia Manzano) and David (Northern Calloway), and a horde of children. There are also Bert (Frank Oz) and Ernie (Jim Henson), Grover (Frank Oz), Oscar the Grouch (Spinney again), Telly (Brian Muehl), and the Count (Jerry Nelson). And because Big Bird goes in search of Snuffy, they end up locked in the museum overnight. Which has one guard (Paul Dooley). Who of course never sees them. What Big Bird and Snuffy see is Prince Sahu (Aram Chowdhury, lamentably killed in a car accident when he was eighteen), a four thousand two hundred six and a half-year-old Egyptian prince cursed to remain forever trapped in the museum (tied, one assumes, to some item in it) until he can answer the question asked him every night by a demon (James Mason). "Where does today meet yesterday?" And even after that, he'll still have to face Osiris (Fritz Weaver). I really wish someone with access to the museum would put together an annotation to the movie. I recognize a few pieces, of course; there's a Degas ballerina, for starters. Bert and Ernie have a talk about Washington's crossing of the Delaware. Into "New . . . Jersey!" Oscar, enraptured, finds a hall of Greek and Roman statuary damaged over the milennia. I think I recognize a Cassatt or two, and I'm pretty sure there's at least one Rembrandt. They even identify a few by name, when Bob and Cookie Monster are looking at paintings of food. (The title of the special comes from a tasteful sign next to [i]Still Life With Ham[/i], by Rousseau.) But Olivia gets a lovely song, "Mothers and Children," which features images of painting after painting and statue after statue from the museum. I'm pretty sure there's more than one Cassatt--well, she painted mothers and children a lot, and there are so few of those which aren't Madonnas--but I don't know for sure, because no one will tell me what appears in the thing. I have stood exactly where Big Bird does at one point, and I did so with great delight. I have been to New York precisely once, and we had something like six hours over that weekend which were largely unscheduled. (I think we were supposed to go to the Statue of Liberty and didn't for some reason.) The rest of the weekend was group activities with the orchestra I was in. Now, the rest of my chaperon group chose to laze about the hotel for the afternoon, feeling that our schedule for the five days we were there was pretty punishing. I, however, felt that it was possible I would never get back to Manhattan in my life, so I joined another chaperon group for the afternoon on their trip to the museum and the Hard Rock Cafe. We were only there a few hours, but one of the things we did was go through the Egyptian exhibits. And so, yes, I have stood in that room with its great glass wall, looking at the Temple of Dendur. (I will doubtless tell this story again, when I get around to [i]When Harry Met Sally . . . .[/i]) Though funnily enough, we didn't get to the musical instruments. I actually bought this on VHS. This month. As you know, I don't do that anymore. Well, it's harder and harder to buy anything on VHS. However, this is not yet available on DVD. There are greater shames in that arena, but it still made me kind of sad. I know it makes me sound like an old fogie; maybe I am an old fogie. However, I do genuinely believe children's fare was better in my day. The fact is, this does actually take several moments to just show people looking at art. (This and [i]Ferris Bueller[/i]!) It is willing to take time out from what is really a very short special (just an hour!) to really slow down and look at the museum. Not only that, but it shows the museum as something which genuinely has things worth looking at. Grover likes the armour. Oscar likes the broken statues. Bert waxes patriotic. And Big Bird and Snuffy know that there is an American Wing to meet in. And, yes, Grover and Telly have those little metal museum tags entangled in their fur to show that they paid admission.
Edith Nelson
Sesame Street - Don't Eat the Pictures Quotes
There are no approved quotes yet for this movie.
Discussion Forum
Discuss Sesame Street - Don't Eat the Pictures on our Movie forum!