Seven (Se7en)
(1995)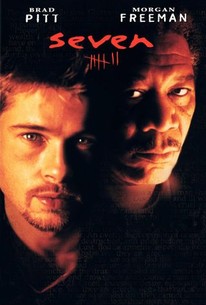 Movie Info
Director David Fincher's dark, stylish thriller ranks as one of the decade's most influential box-office successes. Set in a hellish vision of a New York-like city, where it is always raining and the air crackles with impending death, the film concerns Det. William Somerset (Morgan Freeman), a homicide specialist just one week from a well-deserved retirement. Every minute of his 32 years on the job is evident in Somerset's worn, exhausted face, and his soul aches with the pain that can only come from having seen and felt far too much. But Somerset's retirement must wait for one last case, for which he is teamed with young hotshot David Mills (Brad Pitt), the fiery detective set to replace him at the end of the week. Mills has talked his reluctant wife, Tracy (Gwyneth Paltrow), into moving to the big city so that he can tackle important cases, but his first and Somerset's last are more than either man has bargained for. A diabolical serial killer is staging grisly murders, choosing victims representing the seven deadly sins. First, an obese man is forced to eat until his stomach ruptures to represent gluttony, then a wealthy defense lawyer is made to cut off a pound of his own flesh as penance for greed. Somerset initially refuses to take the case, realizing that there will be five more murders, ghastly sermons about lust, sloth, pride, wrath, and envy presented by a madman to a sinful world. Somerset is correct, and something within him cannot let the case go, forcing the weary detective to team with Mills and see the case to its almost unspeakably horrible conclusion. The moody photography is by Darius Khondji; the nauseatingly vivid special effects are by makeup artist Rob Bottin, best known for more fantasy-oriented work in films like The Howling (1981). ~ Robert Firsching, Rovi
People Who Like this movie also like
News & Interviews for Seven (Se7en)
Critic Reviews for Seven (Se7en)
Audience Reviews for Seven (Se7en)
½
David Fincher's sophisticated thriller is filled with daunting symbolism and an open-ended vision of grisly imagery. Se7en is a psychological fabrication of thematic scope and suspenseful sequences that pays off in the mid 90s and is still revered as one of Fincher's best and a cinematic tour de force. 4.5/5
Eugene Bernabe
Super Reviewer
½
Se7en is a worthwhile crime thriller thanks to solid performances, an intriguing mystery plot, and a memorable finale that will have you on the edge of your seat. The film has a sense of dread that is palpable and has enough moments to keep you engaged throughout, but it is really about the climax. The film clocks in at just over 2 hours and feels like it is a little slow in places, but it is worth sticking till the end. Brad Pitt and Morgan Freeman make a great pair playing opposite personalities and the killer is played memorably by a great actor that I won't give away for spoiler reasons. I can see why some people don't like this film. It is slow, gory, and unrelenting. Ultimately, Se7en ends up memorable for me despite its flaws.
Josh Lewis
Super Reviewer
A retiring detective and his young successor investigate a series of bizarre murders based on the seven deadly sins. The lukewarm reception for David Fincher's debut Alien 3 resulted in most writing him off as another style over substance hack from the MTV generation, but boy did he learn from his mistakes. No-one was expecting his follow up to be much of interest; let alone a virtual modern masterpiece. Fincher had clearly been studying the stylistic hallmarks of Ridley Scott, and the dark, brooding atmosphere crossed with artistic visuals are very much in his tradition. Although the formula of world-weary educated gentleman cop teamed up with a young hot head is hardly an original one, excellent performances and intelligent writing steer the material clear of cliche, and the imagery of the grotesque never descends into unnecessary gore or sensationalism. Complimented by a suitably claustrophobic soundtrack and a brilliantly unpredictable plot twist, I struggle to see how this film could have been any better. In the absurdly overcrowded marketplace of the serial killer movie, this stands head and shoulders above the rest as the very, very best of the genre. And yes, that includes the over-rated Silence Of The Lambs.
Seven (Se7en) Quotes
| | |
| --- | --- |
| David Mills: | You're no messiah. You're a movie of the week. You're a fucking t-shirt, at best. |
| | |
| --- | --- |
| William Somerset: | Anyone who spends a significant amount of time with me finds me disagreeable. Just ask your husband. |
| David Mills: | Very true. Very, very true. |
| | |
| --- | --- |
| William Somerset: | I am hugely overrated. |
| | |
| --- | --- |
| William Somerset: | 'The world is a fine place and worth fighting for.' I agree with the second part. |
Discussion Forum
Discuss Seven (Se7en) on our Movie forum!