Seven Days in May
(1964)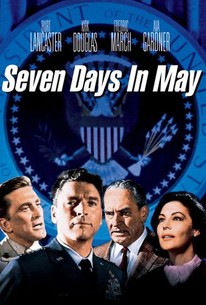 Movie Info
In this film, General James M. Scott, convinced that liberal President Jordan Lyman is soft on America's enemies, plots a military takeover of the United States. Every effort made by President Lyman to find concrete evidence of General Scott's scheme is scuttled by political protocol, human error, and accidental death.
Rating:
G
Genre:
, ,
Directed By:
Written By:
In Theaters:
On DVD:
Runtime:
Studio:
WARNER BROTHERS PICTURES
Critic Reviews for Seven Days in May
Audience Reviews for Seven Days in May
½
One of two great political thrillers of the 1960s - The Manchurian Candidate was the other - directed by John Frankenheimer. An unpopular President, played by Frederic March, signs a controversial nuclear disarmament treaty with the Soviets. Burt Lancaster plays General James Mattoon Scott, Chairman of the Joint Chiefs of Staff who opposes the treaty and plots a coup against the government timed to coincide with the Preakness Stakes. Kirk Douglas plays the General's aide who is torn between his duty to his superior officer and to the Constitution. This film is interesting on so many levels. Not only does it include so many good performances: it is one of the most Academy Award filled casts ever -- March, Lancaster, Douglas, Ava Gardner, Martin Balsam, Edmund O'Brien, and John Houseman. Great performances by all in this film, but mostly by Burt Lancaster and Fredric March who toward the end of the movie have a great scene with excellent dialog that sum up the true essence of the story. But, what is most interesting is that the film was made when it was; being released three months after the assassination of President Kennedy. Because it brings up the issue of whether a political coup can happen here or not. Also, the screenplay was written by Rod Serling, of Twilight Zone fame. Little known is that a darker alternate ending was developed for this film involving General Scott being killed in a car wreck, leaving the question: was it an accident or suicide? Coming up out of the wreckage over the car radio is President Lyman's speech about the sanctity of the Constitution.
John Tandlich
A very good, thought-provoking film that is more related and relevant to our times than we would like.
Lee Mayo
½
Seven Days in May (1964) A very interesting movie directed by John Frankenheimer about a plot to take-over of the US government. This movie is well-written by Rod Serling and has a great cast. President Jordan Lyman (Fredric March) isn't doing very good in the poles. His nuclear disarmament treaty with the Soviets right in the middle of the cold war isn't going over very well here at home, especially with General James Scott (Burt Lancaster) and many of the joint chiefs of staff. General Scott is also a popular presidential candidate, but he feels the importance of taking charge before the Soviets go to war with us. His colleague, Marine Colonel Martin 'Jiggs' Casey (Kirk Douglas) is finding out information that points to General Scott plotting a military take-over of the government. Despite his loyalty towards his general, he goes to the President to tell him of this possible plot. My favorite part in the movie is where President Lyman and General Scott argue over the importance of democracy versus the military imperative, and the need to let the people truly decide their fate.
Rick Rudge
Seven Days in May Quotes
There are no approved quotes yet for this movie.
Discussion Forum
Discuss Seven Days in May on our Movie forum!