Seven Steps Of Kung Fu
(1979)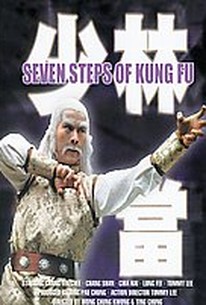 AUDIENCE SCORE
Critic Consensus: No consensus yet.
Critic Reviews for Seven Steps Of Kung Fu
There are no critic reviews yet for Seven Steps Of Kung Fu. Keep checking Rotten Tomatoes for updates!
Audience Reviews for Seven Steps Of Kung Fu
½
Before I go into the review of this film I must preface by saying that this movie has hands-down some of the best kung fu sequences I have ever seen. The choreography is ridiculous and the fights, especially the ones later on in the movie are intense. Chang Shan is a master but Chang Tin Chee is equally impressive as the two protagonists drop knees on the opposition utilizing the devastating "Seven Steps" technique. Plot: Tiger is a rogue and mischief maker, he is also student to the legendary Iron Hands master Li San Pei. While goofing off in town one day, Tiger comes across a medal which he takes home to his master who shows much concern. Turns out that the medal was one of five, belonging to a member of the Five Hands Gang. Master Li San Pei reveals himself as a pursuant of the gang and employs his student to help reveal all five members so that he can stop them for their crimes against their nation. Before Tiger can help however, he must first master Li san Pei's "7 Step Style", a Kung Fu that can be described as dropping knees unto the legs of your opponent to render them useless. After mastering the style and setting out with his master to find the elusive five, the two men soon realize that the members are closer than they thought and a corrupt General is at the center of it all. The movie itself is of the quality you should expect from these old classics, for a DvD it is still gritty, skips at times and there is about 5 minutes of raw Mandarin where they forgot to dub english over. Luckily this small piece of bad editing is within a fighting scene, so you will not miss out on the weak plotline at all. Speaking of plot line, the movie flows through and ends without you knowing what exactly it is that the 5 Hands Gang has done to deserve their fate. All we are given is the "traitors to our country" line and a whole lot of ass whipping. Nevertheless, the action more than makes up for the other weaknesses and I am confident in reccommending this to you. www.SpicyMovieDogs.com
Gregory Dyer
Discussion Forum
Discuss Seven Steps Of Kung Fu on our Movie forum!
News & Features