Seven Times Lucky
(2004)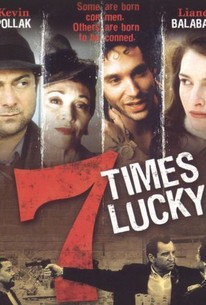 AUDIENCE SCORE
Critic Consensus: No consensus yet.
Movie Info
Comedian Kevin Pollak stars in this crime caper film, the debut feature from Canadian director G.B. Yates. Pollak plays Harlan, a low-rent con man living off the fruits of his small-time scams. When a young student by the name of Fiona (Liane Balaban) enters the picture, Harlan finds his life turned upside down with the prospects of both a big score and true love both up for grabs in a web of deceit and double-crosses. Also starring Jonas Chernick and James Tolkan, Seven Times Lucky screened as part of the World Cinema program at the 2004 Sundance Film Festival.
Audience Reviews for Seven Times Lucky
A nice makeover of the now familiar grifter movie gets points for style and intricacy but loses points for its derivative content and characters.
Lee Mayo
Entertaining little con film that is clever than most of its ilk when it comes to pulling the rug out from underneath the viewer, but nevertheless it's still derivative of other more sophisticated entries in the genre (ie. "The Sting" and "House of Games"). Still, entertaining, efficient, and effective. Recommended.
David Schwenker
½
[color=Yellow][i][b]The Stranger[/b][/i] [/color]>> [color=Yellow]D+ [/color]>> Quite disappointing considering it's an Orson Welles film. Too straight foward and simple with little surprises to keep you interested. [color=Yellow][i][b]The Ice Harvest[/b][/i][/color] >> [color=Yellow]D+ [/color]>> John Cusack is back in his dark humour suit but the script is too weak to support the great cast's talent. [color=Yellow][i][b]Hero [/b][/i][/color]>> [color=Yellow]C- [/color]>> Over-dramatized "epic" with little to offer other than tasty visuals. [color=Yellow][i][b]Seven Times Lucky[/b][/i][/color] >> [color=Yellow]C [/color]>> Another good con movie. Strangely that has become a cliche. It's all about the con and style, which isn't enough to make it a great con film. [color=Yellow][i][b]Akeelah and the Bee[/b][/i][/color] >> [color=Yellow]D [/color]>> Compared to [i]Bee Season[/i], this movie falls flat immensely. It is very predictable and tugs too much at your emotions, which is true for most family films.
Casey Bruno
Seven Times Lucky Quotes
There are no approved quotes yet for this movie.
Discussion Forum
Discuss Seven Times Lucky on our Movie forum!