Sex Madness (Human Wreckage: They Must Be Told)
(1938)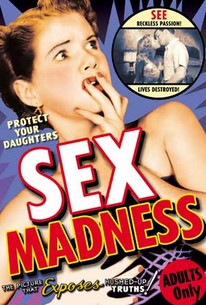 AUDIENCE SCORE
Critic Consensus: No consensus yet.
Movie Info
A film ahead of its time when it was released in 1938, Sex Madness is a cautionary tale about mindless sex and its permanent consequences, as told through the experience of a woman who gives in to her carnal urges and later finds out that her one night of irresponsibility has given her a lasting "gift": syphilis. The sexually transmitted disease is depicted as a horrible monster -- incurable, disastrous and too high a price to pay for pleasure.
Rating:
NR
Genre:
,
Directed By:
In Theaters:
On DVD:
Critic Reviews for Sex Madness (Human Wreckage: They Must Be Told)
There are no critic reviews yet for Sex Madness (Human Wreckage: They Must Be Told). Keep checking Rotten Tomatoes for updates!
Audience Reviews for Sex Madness (Human Wreckage: They Must Be Told)
Sex Madness is basically a film warning about the evils of syphillis and how it destroys lives, but like many propaganda films of the time, it is loaded with campy moments. However, I will give it credit for being a more accurate film than most other films of its kind. The acting and dialogue are awful and the direction is incompetent, but it has enough weird campy moments to keep it lively and fun. I like it, but then again, I enjoy a lot of trash, so it's no surprise.
Keenan Sullivan
51 minutes of nostalgia, this propaganda like film warns against the "follies of youth". We must forgive the film for its era and pretty awful acting and camera work as the aim of this public service piece was to warn of social diseases. But it wasn't public service at all, THAT was a cover for it being an exploitation film of the time to get around picture codes. [img]https://lh6.googleusercontent.com/--rW6Pwjc-QA/TglotG24L9I/AAAAAAAAABk/6I7ZmSfM9UM/sex-madness-231x130%25255B1%25255D.jpg[/img] At any rate, it still came off as some sort of warning to anyone to avoid casual sex. It still holds true today. Syphillis was a big threat back in the thirties. It was and is a threat to anyone that practices casual sex. The moral of this preachy plot is to abstain from casual "relations". One can appreciate that at the time syphillis was a quiet killer, striking families, infants with impunity. The story here told, while very crude and at times almost amusing is as good advice today as back then. [img]https://lh3.googleusercontent.com/-j-XCJOdSdL0/Tglo87ZeLhI/AAAAAAAAABs/Y7vsrxMrYpU[/img] "Philanthropist Paul Lorenz is one of the more public faces in the fight against behavior that spreads the many "social diseases", such as syphilis and gonorrhea. An example of such behavior is going to or performing in burlesque shows, which promotes casual sex. Indeed, many in the audience at one burlesque show in New York have only sex on their mind, including young unmarried couple James and Jane, office colleagues Peggy and Betty (Peggy who is trying to seduce Betty), and Paul Lorenz's son himself, Tom Lorenz, who is looking forward to an after show group sex party, which will include some of the girls from the show, such as Sheila Wayne, who has syphilis but treats it as casually as her sex."--- IMDb synopsis [img]https://lh3.googleusercontent.com/-gyqWpDdsaSs/Tglo3QEA0MI/AAAAAAAAABo/GjKYewywoHw/humanwreckage-lc%25255B1%25255D.jpg[/img] But Monsieur Rick, just what does the title mean? The title "They Must Be Told" was not the one RT used. Sex Madness was instead used to tell as strong a message as then could be told. Even the word "sex" is freely used, of course by doctors. And the story promotes disclosure by professionals while at the same time warning of fake doctors with fake cures. This film is an easy target of critics who cringe with laughter at the antics in it, but make no mistake, even today "social diseases" are not a laughing matter. See all the film at: http://www.archive.org/details/sex_madness Reviews of the film: 1 "Sex Madness (1938) is an exploitation film directed by Dwain Esper, along the lines of Reefer Madness, supposedly to warn teenagers and young adults of the dangers of venereal diseases, specifically syphilis.The cultural mores could not be more opposite one hundred years later. Talk about another era, this is like life on another planet. Read the opening text. Wild parties, lesbianism, and premarital sex are some of the forms of madness portrayed. The educational aspect of the film allowed it to portray a taboo subject which was otherwise forbidden by the Production Code of 1930, and its stricter version imposed by Hollywood studios in July 1934." --- www.current.com 2 "This isn't a particularly good movie. It drags at times, but I thought the subject matter was worthwhile, and looked at from the perspective of 1938 it was courageous." 3 "The whole idea of sex education for young persons, and of exposing the public to the reality of sexual diseases, is something still being tossed around in today's society. This film is on the progressive side of this debate, albeit dated, and those snide commenters who decry this film as being too prudish or preachy have little idea of what was really prudish and preachy in the 1930s. " CAST or others: Linda Lee Hill, Ruth Edell, Rose Tapley, Natalie Donet, Al Rigali, Allen Tower, Polly Bestor, Frank Howsen, Joseph Seiden, Jean Temple, Harry Antrim, Vivian McGill, Joseph Kramer, Vincent Valentini, Charles Olcott, Ed Redding, Miriam Bilavsky, W. Blake, Mark Daniels, Douncey Taylor, Richard Bengali, Pat Lawrence, Albert Patterson, Allan Lee Director: William Curran, Dwain Esper (not sure who did this) Production Company: Cinema Service Corp. Audio/Visual: sound, b&w /
monsieur rick
Keep your legs closed and you won't get syphilis, ya dirty whores!... That's pretty much the message I got from this movie.
Nick Murphy
Sex Madness (Human Wreckage: They Must Be Told) Quotes
There are no approved quotes yet for this movie.