Sex and the Beauties
(2004)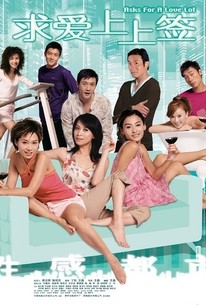 AUDIENCE SCORE
Critic Consensus: No consensus yet.
Movie Info
Taking a cue from the HBO series Sex and the City, the Asian comedy Sex and the Beauties concerns a group of eight young women who meet every so often to talk about sex and love.
Rating:
NR
Genre:
,
Directed By:
On DVD:
Runtime:
Studio:
S&W Entertainment Limited
Critic Reviews for Sex and the Beauties
There are no critic reviews yet for Sex and the Beauties. Keep checking Rotten Tomatoes for updates!
Audience Reviews for Sex and the Beauties
½
When this film was loaned to me, it was described as being a Chinese take on the HBO series, Sex And The City (Hell, even the description proudly touts how it's a knockoff of the show), I was instantly filled with dread. Why? Because I absolutely loathe Sex And The City. Though I've sampled very little from the TV series, I hated every moment of what little I sampled. However, I have seen both films based on the TV series and they are both among the absolute worst films I've ever seen due to their horrible storylines, characters so flat, selfish, and horrible they would make villains envious, long conversations about nothing interesting, brutally unfunny humor, they're horribly boring, and they also have horribly bloated running times. So, as you can imagine, I wasn't looking forward to this film at all (I might be gay, but I'm not gay enough to enjoy the horrors of Sex And The City). In fact, I was dreading this film so much that I almost broke down and cried when I was putting the disc into the DVD player because of how horrible those films were for me to watch. However, within the first five minutes of this ripoff, it was already a way more interesting film than the combined running times of both Sex And The City films. Sex And The Beauties is one of the most perplexing, scattershot, batshit-crazy films I have ever seen in my life...and I've seen a lot of weird films. Every single character in this film is completely outlandish, but fascinating in all their own ways, which already made them more interesting characters than the ones they rip off. There's no one plot in this film, but rather a series of strange vignettes that tell their own little stories which involve things like love, the mafia, drugs, random martial arts battles that occur at random, sexual discussions, and all sorts of other random shit. I was constantly confused and wondering what the fuck was happening, but I was certainly not bored and I was actually very entertained by this perplexing film. It's like the people who made this film were tasked to rip off Sex And The City, but in the process, took a shitload of drugs while writing the script and then made the damn film. I laughed, I was entertained by all the random scenes, and I had a blast going along on this surreal ride (Hell, there are surrealist films that aren't this fucking crazy). In my opinion, it's way, way, way, way better than what it rips off because unlike what it rips off, shit actually happens in this film - even if all of it is crazy and totally nonsensical. I really liked it and it's definitely an oddity of a film that I'm pretty sure that I will never see anything like it again. Unless you enjoy watching weird films, this one is not recommended to most viewers.
Keenan Sullivan
Discussion Forum
Discuss Sex and the Beauties on our Movie forum!