Sex with Strangers
(2002)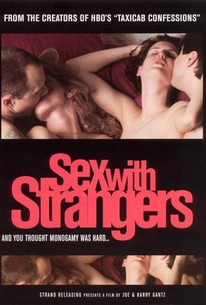 Movie Info
Already the subject of another theatrical-release documentary (1999's The Lifestyle), sexually "open" relationships go under the microscope yet again in this feature-length effort from Taxicab Confessions creators Joe and Harry Gantz. Sex With Strangers profiles two couples and one threesome in which each partner has agreed to experiment sexually with others, ideally without emotional attachment. First up are James and Theresa, a middle-aged Oregon husband and wife who seek out action on the Internet, then travel to the site of the willing party in their camper van. Meanwhile in Mississippi, Gerard and Shannon are young marrieds who frequent sex parties, trying to organize their often-separate sexual schedules around caring for their son. Finally, James' younger friend Calvin may think he has it all -- two full-time girlfriends -- but the jealousy and resentment between the two comes to the fore as he tries to decide which woman he's going to legally marry. Sex With Strangers was aired on Showtime before its theatrical run.
Rating:
NR
Genre:
,
Directed By:
On DVD:
Runtime:
Studio:
View Film
Critic Reviews for Sex with Strangers
Audience Reviews for Sex with Strangers
½
Basically a "reality TV"-style documentary about a few groups of people with no decent personality. I guess these people couldn't attract anyone to be around them without acting like this. So much pettiness; how could you chose to live like this if minor jealousies set you off? I also learned the difference between wife-swapping and swinging. I wonder if there are attractive-people-only swinger clubs, because some of these were downright horrid looking.
D M
½
It looked really stupid, but as with most well made documentaries it's more insightful than at first glance. An entire world of polygamy has been opened here for neophytes of the topic, and although I don't think I'll try it, Sex With Strangers leaves one open minded in spite of how even handed it is in bringing up polygamous dilemmas (As in, it's not fully supportive at every corner). The sex is fully explicit; not of the XXX type as I don't think it titillates (or is meant to titillate) and furthermore there's no close up of the sex or active sexual organs. At least three (Might be four - can't remember) couples' swinging lives are shuffled throughout and it's ironic how these are Middle USA white people, ones one typically expects to be fervently religious and sexually conservative in these matters.
Ricardo Craneo
Sex with Strangers Quotes
There are no approved quotes yet for this movie.