Sexy American Idle
(2004)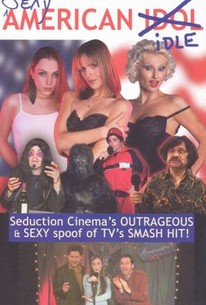 AUDIENCE SCORE
Critic Consensus: No consensus yet.
Movie Info
An over-the-top talent show sets the stage for the sexiest spoof of reality television ever in this Seduction Cinema outing starring Misty Mundae, Anoushka, Julian Wells, Darian Caine, and A.J. Khan. Nothing is sacred as Northeast Westover's blowout talent show approaches, and as outspoken hosts Neil and Bob prepare for the show, any celebrity who has sold their soul to television is fair game. Just like in reality television, you don't need to have any real talent to become a star in this show, and when a collection of promiscuous young hopefuls set their sights on stardom, there's nothing they won't do to earn their 15 minutes of fame.
Critic Reviews for Sexy American Idle
There are no critic reviews yet for Sexy American Idle. Keep checking Rotten Tomatoes for updates!
Audience Reviews for Sexy American Idle
"Well right off the bat we have a problem, and it is artistic in nature. Pardon my French, but who are these narkies to tell ME what art is? I mean I have done a tremendous amount of community theater, ah, I was very oftentimes offered a speaking part..." Not as rewatchable as some of the Seduction Cinema catalog, but first time through their sendup of Idol competitions made me laugh. Outside of Cloak & Shag Her, this gives Julien Wells her best role, or roles as she plays 3 parts: stuck-up judge Eunice Willnotbe, an awful singer/dancer, and a bizarre second competitor who is a burn victim and cannot speak, only sing...I think?? SedCin stalwarts AJ Kahn & Darian Caine are along as interpretive dancers, Misty Mundae is hotter than ever as a rapper's girlfriend, and Anoushka gives her best performance - because she actually gives a performance - as another judge. But they are mostly minor roles, Wells is the star of this show and you gotta admire how such a sexy woman allows herself to be so completely goofy. Where else will you find hot babes singing a round of "Row Row Row Your Boat"?
Doctor Strangeblog
Super Reviewer
Sexy American Idle Quotes
There are no approved quotes yet for this movie.