Sexy Baby
(2012)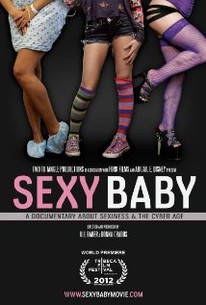 Sexy Baby Videos
Sexy Baby Photos
Movie Info
Sexy Baby is the first documentary film to put faces to a seismic cultural shift: the cyber age is creating a new sexual landscape. While doing research for the film, we had intimate and candid conversations with kids in middle school classrooms, suburban shopping malls, nightclubs, college dorms, and even conducted an informal roundtable during a high school house party. While chronicling trends among small town and big city kids, we discovered this: Having pubic hair is considered unattractive and "gross." Most youngsters know someone who has emailed or texted a naked photo of themselves. Many kids have accidentally or intentionally had their first introduction to sex be via hardcore online porn. Facebook has created an arena where kids compete to be "liked" and constantly worry about what image to portray - much of what was once private is now made public. And the list goes on... -- (C) Official Site
Rating:
NR
Genre:
,
Directed By:
In Theaters:
Runtime:
Studio:
Cast
Critic Reviews for Sexy Baby
Audience Reviews for Sexy Baby
The internet, coming just 20 years after cable tv, is causing a drastic shift in sexuality. 3 gals of different backgrounds and ages are profiled. Well shot & edited, this doc allows you to watch and draw your own conclusions about cause and effect. The 21st century has brought a paradigm shift.
Christopher Bergan
½
This documentary was interesting in that you get three distinct viewpoints from different females at different ages in their lives, as well as insight into how they relate to the world, and how the world sees them. It kinda skates around being exploitative, but overall seems to have a decent middle ground approach. Worth a rental for sure.
Bill Bryant
½
At-times interesting and sincere examination on a first-person level of how social networking and easy accessibility to sexual images via the internet affects the minds and self-image of kids and young adults. Twenty years ago, pornography was more of a fringe interest that had to be actively acquired and usually only adults had the access (buy magazine at store, order video with credit card). Today, porn stars have crossed into the mainstream discussion and some are household names, from Jenna Jameson to Sasha Grey. Parents have a much more difficult task at shielding their kids from too much too soon. This docu concentrates on three people. The least interesting story is that of a 22-year old recent beauty queen and current elementary teacher who decides she wants a labiaplasty, surgery to "correct" her genitalia. She exemplifies the pressure to look perfect but we don't learn much more of relevance. Then we follow adult entertainer Tabitha Cash who has several interesting observations about the changes she's seen in the industry and what she will be like as a mother, now that she is trying to get pregnant (with her husband, zing!) Unfortunately the pregnancy becomes the focus during her second half, and I don't know who watching this movie cares about seeing her show her ultrasound video to her family. Then the brunt of the docu follows the metamorphosis of a precocious 12-year-old girl who when introduced writes plays decrying the sexualization of women in rap songs, but over the course of 2 years wears shorter and shorter skirts and posts a few provocative photographs of herself online. Facebook is rather convincingly targeted as often a bad influence, creating a world where kids feel the need to be more than themselves and where gaining and keeping friends equates to competition. Her story is the most revealing, but I have some misgivings about the methods of the filmmakers. It's just too convenient that their young feminist poster-girl subject begins to be influenced in exactly the way they would hope. This covers a time span of 2 years with some very intimate moments captured - how could they get so lucky? Were they filming 10 other kids at the same time who all got chucked into the trash because they didn't represent what they were after? Some questions worth considering. At any rate, the docu brings up some important topics that all parents will encounter sooner or later concerning the raising of their children in the Digital Age. A lamentable lack of focus and problematic assembly prevents that message from scoring a direct hit.
Doctor Strangeblog
Super Reviewer
Discussion Forum
Discuss Sexy Baby on our Movie forum!
News & Features