Sgt. Bilko
(1996)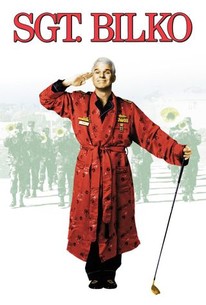 Movie Info
The classic 1955-59 sitcom The Phil Silvers Show (also known as "You'll Never Get Rich" in its first few episodes) became this high concept comedy with an all-star cast. Steve Martin stars as U.S. Army Master Sergeant Ernest G. Bilko, a conniving motor pool supervisor who uses his position to finance various get-rich-quick schemes, including illegal gambling, at a Kansas military base. His commanding officer, Colonel Hall (Dan Aykroyd) is mostly oblivious to Bilko's antics. Trouble arrives when the master sergeant's old rival, Major Thorn (Phil Hartman), appears. It seems that Thorn, the butt of several past Bilko capers, is eager to settle the score by spearheading a review of Bilko's records and stealing away his fiancée Rita (Glenne Headley), who may have been left at the altar one too many times. At the same time, military engineer Major Ebersole (Austin Pendleton) is testing a new high-tech "hover tank" that may not be quite ready for deployment. Directed by light comedy specialist Jonathan Lynn, who brought a similar touch to My Cousin Vinny (1992) and Greedy (1994), the updated Sgt. Bilko costarred Cathy Silvers, daughter of the TV show's late star, as Lieutenant Monday. ~ Karl Williams, Rovi
Critic Reviews for Sgt. Bilko
Audience Reviews for Sgt. Bilko
½
Sgt. Bilko is a very good comedy that unfortunately is pretty underrated. Steve Martin is great here and there's plenty of good elements to make up a smart comedy. If you're going in with expectations that this will be a Hangover type comedy, you'll be very disappointed. This is a very funny film that is supported by a good cast, including the late, great Phil Hartman. This is a smart, witty comedy. Steve Martin is very funny here and he makes the film very enjoyable. Sgt. Bilko is a very underrated film. I don't understand why this film has gotten so many bad reviews. This is a fine comedy that will appeal to anyone who enjoys a good Steve Martin flick. Sure, this film isn't perfect, but the cast deliver good comedic performances that make this film a worthy comedy to watch. Steve Martin delivers a good comedic performance that makes this film worth it. Sgt. Bilko may not be a perfect film, but it definitely is an underrated film that doesn't deserve the flack it has received. For what it is, Sgt. Bilko is a smart comedy that has good acting, good laughs and is overall very entertaining. I very much loved this film, and I think that it has plenty of effective comedic moments to make it a worthwhile film to watch.
Remember those secret little comedy gems Steve Martin made in the 80's and 90's that no one ever saw but were amazing? Yeah, this isn't one of them. Sgt. Bilko is not a character anyone can empathize with. He's dishonest, depraved, and virtually unkind. The movie explains that though he has all these faults, he boosts his platoon's morale. Since when did morale building have to include being mean spirited and rude to all hardworking soldiers and make fun of everything America was built on? Martin himself is unlikable, as he stands up his bride at the altar more than once, fixes boxing matches, runs lotteries, and charges everyone for basic necessities, including towels. Even Hartman is stuck in a role where he's supposed to be a villain who is only trying to do his job, unlike Bilko. Out for revenge for the last time Bilko basically got away with murder, Hartman's character sabotages the sergeant by being crooked. So the moral of the story is that you can do what you please, and if it makes everyone somewhat happy you can get away with it? Just plain blah.
Spencer S.
Super Reviewer
½
i liked this film. it was a fun comedy, not great and i didnt actually laugh much but martin is always entertaining. this was decent.
Sgt. Bilko Quotes
| | |
| --- | --- |
| Maj. Thorn: | If any of this is frightening, you can hold on to me. |
| Rita Robbins: | They're dancing Raisinets. |
| Maj. Thorn: | And you don't find that frightening? |
Discussion Forum
Discuss Sgt. Bilko on our Movie forum!