Shades of Ray
(2008)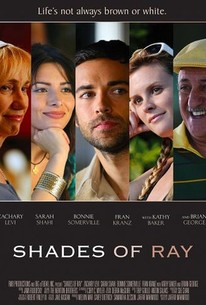 AUDIENCE SCORE
Critic Consensus: No consensus yet.
Movie Info
A half-white, half-Pakistani actor searches for his own identity while attempting to save his parents' marriage and awaiting his Caucasian girlfriend's response to his own recent marriage proposal. Returning to his home one night, American-born Ray Rehman discovers his Pakistani father waiting on his doorstep. Thrown out by his Caucasian wife, Ray's father needs a place to stay. But his timing couldn't be worse, because Ray just proposed to his white girlfriend, who doesn't seem able to make a commitment. Later, when Ray meets a South Asian girl of mixed descent, he begins to question where his true identity lies.
Rating:
PG
Genre:
, ,
Directed By:
Written By:
In Theaters:
On DVD:
Runtime:
Studio:
Critic Reviews for Shades of Ray
There are no critic reviews yet for Shades of Ray. Keep checking Rotten Tomatoes for updates!
Audience Reviews for Shades of Ray
The protagonist's trajectory resembles that of a pinball. Ray grew up in New Jersey, but moves away to Los Angeles. Ray is engaged to Noel, and asks her to marry her. She delays giving him an answer until after she comes back from a vacation with her parents. Ray's father moves in with him, and soon talks him into having dinner with Sana and her parents. Noel calls him and says yes. Ray continues seeing Sana. Oi. Ray's mother comes out. Noel comes by when Ray is working at the bar, and the parents are both at Ray's house. Sana stops by the bar and tries to seduce Ray in the men's room. What could possibly go wrong, and could it be fixed? Cinematography: 7/10 Usually competent, but often just barely. Sound: 8/10 Occasionally badly miked. Acting: 6/10 Good except for Fran Kranz. The other actors counterbalance his badness, but he's still obnoxious. Screenplay: 7/10 Moves along logically, except for the intervals that contain Fran Kranz.
Ed Collins
½
Usual Rom Com fare but a very enjoyable movie to watch. The acting was good. Kathy Baker does a great job as usual and in my mind does better than the material she had to work with. As usual some choices were a bit puzzling. The method by which the new love interest let's the main character know she is interested borders on disturbing as to its location considering the way her charater was developed in prior scenes (even given the alcohol "boundary" lowering). After seeing several movies of this genre recently I begin to wonder if some mature female consultants wouldn't be helpful to sell the reality of how women behave. The men behave in rather socially real ways if not above par; however, the women take detours into slutville. It seems the normal pace is sweet / slut / sweet. Last thought - Main character loves one type of woman but then falls for a completely different type all without any seeming change in him. The movie touches on the change but never really sells it for my taste.
Paul Cleary
½
Comedy was decent, and the story was very much something different and refreshing...but I obviously had a hard time relating/identifying with characters. I thought it was pretty good though.
Jacob Kucinic
Shades of Ray Quotes
There are no approved quotes yet for this movie.