Shadow Company
(2007)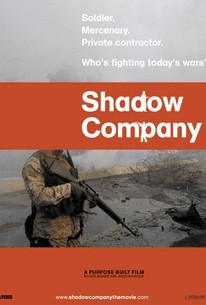 Movie Info
Filmmakers Jason Bourque and Nick Bicanic explore the trend of private militaries around the world in this documentary examining the increasingly blurred distinction between soldier and mercenary. In a time when powerful multinational corporations are contracting private mercenaries to fight wars, the risks of allowing profit-motivated conglomerates to outsource war are chilling. Who do these private armies answer to, and what are the motivations of their financers? The private military draws in over $100 billion in annual revenues, and despite the fact that there are over 70,000 "employees" in Iraq alone, the majority of the public remains completely unaware of it. 300 star Gerard Butler narrates a film that aims to open the eyes of everyday citizens to a potentially disastrous situation. ~ Jason Buchanan, Rovi
Cast

Critic Reviews for Shadow Company
Audience Reviews for Shadow Company
"Shadow Company" is an eye-opening documentary about the history and current state of military contractors(or mercenaries, if you like) with a special emphasis on the Iraq War. For a start, this is nothing new which is how countries did business until the rise of the nation state in the 19th century, when soldiers were started to be rewarded with a sense of duty and patriotism more than money. After the white minority government was removed in Rhodesia, the white soldiers went to South Africa. And they were again out of work with the fall of Apartheid, setting up their own company, Executive Outcomes, in response. According to "Shadow Company," a lot of military contactors act as bodyguards and security personnel in potentially hostile situations.(For this reason, one commentator deems them as evil, since they potentially keep away things from people who might badly need them.) Their stock price, unlike most other businesses, went through the roof after 9/11 and they do a steady business in Iraq, even replacing some departing coalition troops, where an "accountability gap" also exists.(Contractors were killed in Fallujah because the insurgents thought they were CIA.) As some contractors testify, cowboy tactics are frowned upon, as training in the rules of engagement are provided, especially when dealing with the military. And mercenaries overthrowing third world governments is total fantasy, as the situation in Equatorial Guinea proved once and for all.
Shadow Company Quotes
There are no approved quotes yet for this movie.