Shadow Magic
(2000)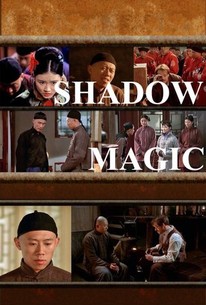 TOMATOMETER
AUDIENCE SCORE
Critic Consensus: Charmingly sweet, Shadow Magic captures the sense of wonder of audiences experiencing the world of motion pictures for the first time.
Movie Info
Chinese-born, American-based director Ann Hu debuts with this epic historical drama about the introduction of motion pictures to China during the beginning of the 20th century. The film is based on a true story of Liu Jung (Xia Yu), a Peking photographer who struggles to start a film industry in China in spite of the strong anti-Western sentiment of the time. At the film's outset, Liu Jung is scolded by his autocratic boss Master Ren (Liu Peiqi) for his obsession with Western gizmos after he brings home a junked Victrola. During a photo session with China's most famous opera star, Lord Tan (Li Yusheng), Liu Jung runs into Raymond Wallace (Jared Harris), a mysterious Brit who is hell-bent on introducing movies (called "shadow magic") to the Emperor. As soon as Liu Jung sees his first frame, he is hooked on the medium and committed to Wallace's scheme. This film was screened at the 2000 Sundance Film Festival.
Critic Reviews for Shadow Magic
All Critics (49) | Top Critics (19) | Fresh (35) | Rotten (14) | DVD (3)
Why not trust the subject matter instead of shaping it all to fit a formula?

Chicago Sun-Times
Top Critic
Makes us appreciate what today's audiences take for granted: the miracle of the cinema.
May 17, 2001
Dallas Morning News
Top Critic
Gives us a glimpse of what it must have been like to be mesmerized and seduced by images that still convey magic and mystery.
May 17, 2001
Chicago Tribune
Top Critic
Shadow Magic isn't interested in psychology or character study. It's a series of tableaux and on that level succeeds admirably.
May 4, 2001
There is a humane touch here missing from so many modern movies.
April 27, 2001
It's a film about film, and Hu's love of the medium's storytelling power shines through every frame.
Washington Post
Top Critic
Audience Reviews for Shadow Magic
The story of the introduction of film to a turn of the century China weary of and hostile to Western encroachment is framed by a tale of a young man struggling with his wonder with new technology versus a class system that insists he "know his place". Although thin in places the subject matter still charms.
Kevin M. Williams
Super Reviewer
[font=Century Gothic]In "Shadow Magic," it is Peking in 1902 where Liu(Xia Yu), the chief photographer for a prestigious photo studio, is seeking innovative ways to help, including playing a recording of western classical music during a photo shoot. His boss(Liu Peiqi) thinks he needs to settle down and arranges a marriage between Liu and the Widow Jiang(Fang Qingxhuo). Fearing a fate worse than death, Liu starts assisting Raymond Wallace(Jared Harris), an Englishman with a new invention called a movie projector.[/font] [font=Century Gothic][/font] [font=Century Gothic]Inspired by a true story, "Shadow Magic" is an interesting and overlong bit of history that is let down by a thin plot. The power of the images speak for themselves as they capture unfamiliar lands and peoples who are thousands of miles away. What the movie is concerned with is the opening of China to new ideas from the West but a hundred years later, there is too much of this, especially Hollywood films that flood the market. At the same time, there are much less Chinese films or other forms of culture flowing back the other way. [/font]
Shadow Magic Quotes
There are no approved quotes yet for this movie.
Discussion Forum
Discuss Shadow Magic on our Movie forum!