Shadows (Hellgate)
(2012)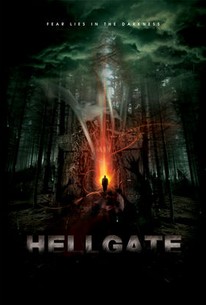 AUDIENCE SCORE
Critic Consensus: No consensus yet.
Shadows (Hellgate) Photos
Movie Info
An American businessman in Thailand finds himself trapped in a terrifying netherworld between life and death following a tragic accident that claims the lives of his wife and son. Jeff (Cary Elwes) has just arrived in Bangkok when he, his wife Sua (Paula Taylor) and their son Kyle pile in to the car for a visit with Sua's father. The next thing Jeff knows, he's regaining consciousness in a hospital, where he learns that a devastating crash has claimed the lives of Sua and Kyle. Over the course of his slow recovery, Jeff begins to see the ghosts of people who perished under terrible circumstances. When Jeff confides his visions to sympathetic nurse Choi (Ploy Jindachote), she refers him to Mae, a noted medium who confirms the traumatized father's greatest fears: Since Sua and Jeff were killed before their time, and in such a violent manner, their spirits will be forced to repeat their moment of death forever. Enlisting the aid of American expatriate Warren (John Hurt) in order to help his wife and son cross into a place of rest, Jeff learns that his soul, too, has become stuck in that terrifying realm between life and death. Now, the only way for Jeff grieve his loss, and grant his loved ones eternal slumber is to enter the ethereal world from which few living beings ever return. But even then, the struggle ahead will be so terrifying that he may not live to succeed.
Critic Reviews for Shadows (Hellgate)
All Critics (1) | Fresh (0) | Rotten (1)
Nothing but silliness, yet there's potential baked into the foundation of the story that suggests a more profound approach was there for the taking, finding Penney passing on the challenge to make a trivial horror film.
Audience Reviews for Shadows (Hellgate)
½
After a fatal car accident a man realizes that his soul, separated from his body, is hanging out at the gates of hell and he only has two days to get it back. Horror movies come up with the most ridiculous rules: "They can't eat after midnight," "You must be looking in a mirror," "Don't go to Camp Crystal Lake." And in each film there's always some mystical old woman who happens to know all this shit. But the concept behind this film might be the most laughable. After about forty-five minutes of characters piling bullshit rule upon mystical bullshit rule, I lost the ability to keep all the bullshit straight. The film gets some cheap thrills from scary, gory corpses reaching out at the characters like spooky, pimple-ridden high school students who get paid minimum wage to work at a haunted house. William Hurt is the reason I saw this film. He's not horrible, but it's definitely not a representative performance. Most of the time when he intends to look hurt and tortured, he just looks tired. Overall, I'm never going to meet my favorite actor, William Hurt, but if I ever do, I'll be able to say, "I'll follow you to Hellgate."
Jim Hunter
Super Reviewer
Shadows (Hellgate) Quotes
There are no approved quotes yet for this movie.