Shadows & Lies
(2010)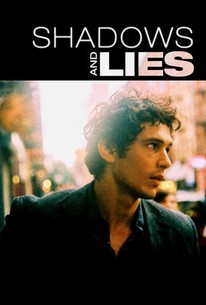 AUDIENCE SCORE
Critic Consensus: No consensus yet.
Movie Info
James Franco of Pineapple Express and 127 Hours toplines this tense, visceral crime thriller. He stars as William Vincent, a laconic criminal with an enigmatic past, who falls hard for a New York gangster's prostitute lover (Julianne Nicholson). When the thug finds out, he forces William to leave the city and threatens him with death should he ever dare to return. Initially, William agrees, but after four years in exile spent pining for the young woman, he secretly returns to Manhattan, planning to rescue her from the ugly life that ensconces her.
Critic Reviews for Shadows & Lies
There are no critic reviews yet for Shadows & Lies. Keep checking Rotten Tomatoes for updates!
Audience Reviews for Shadows & Lies
Call me an acting nerd, but I loved it. It is so consistently stylized and weird, and the actors so thoroughly immersed in Anania's hypnotic style, it intrigued me. If this isn't a test of acting I don't know what is. Reactive and internal silences are real indications of how deep an actor's talent goes, and this pair prove their creds every labored and soundless minute. They may not be saying much, but they're working through every frame on screen.
First Last
½
This ended up being a weak rental. I LOVE James Franco but his character had way too many voiceovers and I was never convinced he fell for the girl. Plus, again another poor choice of telling a story by jumping back and forth through time (are you listening J. Edgar) which muddies up the story and destroys any chemistry that needs to build with time.
Brook Young
½
"Shadows and Lies" is admirable for what it sets out to achieve. Unfortunately the film is so lackluster and ultimately misguided that any positive intent is completely muddled. The film tries to be a study in existentialism and noir sensibilities (note: there is no such thing as neo-noir, but many will use the term to describe "Shadows and Lies"). Writer/Director Jay Anania tries to shape a story around the theory of "meaninglessness" (that each person, alone, is only able determine the meaning of something, thus everything is essentially without meaning) but walks away with nothing (no catharsis, no after thoughts, no real stance on the theory). Normally, with films about these subjects, one needs to have a palpable sense of internal struggle, but James Franco and Julianne Nicholson (two actors whom are normally very good) deliver extremely flat performances. The film may have an okay atmosphere at times and the confused narrator who shifts from nature videos into the narrative film and back again is intriguing, but "Shadows and Lies" is mostly a large waste of time that borders on bad film school quality.
Steven Carrier
Super Reviewer
Shadows & Lies Quotes
There are no approved quotes yet for this movie.
Discussion Forum
Discuss Shadows & Lies on our Movie forum!