Shaft's Big Score!
(1972)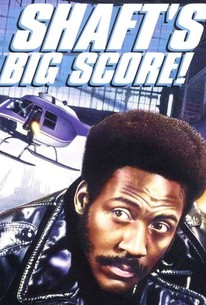 Shaft's Big Score! Photos
Movie Info
The sequel to Shaft, this action film follows the further adventures of detective John Shaft (Richard Roundtree) as he investigates the murder of a friend while trying to resolve a feud between competing gangster.
Critic Reviews for Shaft's Big Score!
All Critics (10) | Top Critics (1) | Fresh (7) | Rotten (3) | DVD (4)
Can you dig it? I can't quite.
June 29, 2005 | Rating: 2/5
Weak Shaft entry. Sloppily shot action, hard to follow.
August 11, 2003 | Rating: 2/5
Good sequel finds Shaft at it again. The original is better, and so is Shaft in Africa.
September 27, 2002 | Rating: 3/5
Audience Reviews for Shaft's Big Score!
Hmm, where to start? Well, I want to give this an extra half star, but I can't in the end feel totally justified doing that. This sequel has a higher budget (which shiows), more action, and Parks seems to be more comfortable with his direction. owever, the plot is all over the place, doesn't make too much sense, and the title is a little misleading (the score isn't that big). Also, this was a quick cash in (or at least feels like it) because it doesn't seem as well thoguht out as its predecessor. The film is longer, so that's cool because you get to see more of ROundtree being awesome, but there's also some slow parts that mess with the pacing.This still has many noir/detective elements to it, but it also has a ton more James Bond type stuff (minus the gadgets). It's got some good action sequences, and some nice set pieces. The music is also really good, and may be the thing I enjoyed most. Isaac Hayes only contributes one song, but even then, the music is amazing. The camera work is nice, and there's a few good bits of comedy, but I would have appreciated the inclusion of more subtext/substance. This is a fun and decent sequel despite its shortcomings.
Chris Weber
Super Reviewer
Gordon Parks' sequel to his 1971 blaxplotation success seems to fall short of the popularity and status of the original. But, as the hyped update with Samuel L Jackson is on the way, Shaft's Big Score and the next film, Shaft In Africa, may become more well-known. To be honest, I made my Shaft debut with Big Score. The hype over the new film made me eager to see the original but i had to settle with this sequel. For all the excitement, I was truly dissapointed but i am going to refuse to judge the original, Shaft In Africa and the Jackson update by this film's standards. Richard Roundtree returns as John Shaft, the supercool black detective, quick with words and quick with a gun. The opening sequence sees him speeding towards the place of a friend who knows he is about to get murdered. We see some money being hidden, so we ourselves try and figure what it's all about. Shaft doesn't make it on time but he takes over the case. What follows is a detective thriller that never explains itself well and confuses the audience even though at the end of the day, the plot - Shaft looking for his deceased friend's hidden money which is sought after by gangsters - is simple. At most times, the violence and language is unecessary but despite how excessive these things are, no real tension arises between the characters - they just swear at them and beat them up. No edge arises in the plot so there are no scenes which feature suspense. Finally, when the climax comes it starts out as a simple graveyard shoot-up but ends up on a dock-side building site complete with boats, helicopters, etc. It's spectacularly over-the-top and ridicously overlong and again there's no excitement. The only thing that kept me watching really was Roundtree. He's great as Shaft and has a real strong presence. Actually, Roundtree makes Shaft come across a nice guy but can easily toughen him up and make his brutality come out. The supporting cast features no one famous but no one gives a bad peformance. So, Shaft's Big Score is a big let down. But I advise you (and myself) to check out more of Shaft's adventures, as the hero has the potential and status to feature in thrillers a lot more satisfying than this.
Cassandra Maples
Super Reviewer
Shaft just seems out of his element here, with little or no action, and large expanses of utterly forgettable and unnecessary plot elements for him to navigate. Even the helicopter-fight sequence near the end is utterly boring... for some reason, Roundtree can't conjure up the iconic "Shaft" persona for this sequel, and without a strong protagonist, the film falls flat.
Daniel Hetteix
Super Reviewer
Shaft's Big Score! Quotes
There are no approved quotes yet for this movie.