The Shaggy D.A.
(1976)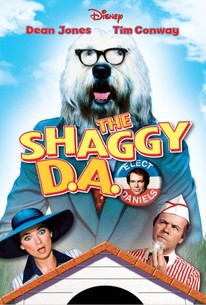 Movie Info
Robert Stevenson, Walt Disney Productions' house director, cobbled together his 19th family film for the organization with this slapstick sequel to the Disney comedy The Shaggy Dog (produced 17 years after the fact). Dean Jones plays Wilby Daniels, a lawyer running against the villainous John Slade (Keenan Wynn) for district attorney. His campaign is cast into doubt when he comes upon an ancient ring that transforms him into a fat sheepdog. But the campaign progresses on a level playing field when the unscrupulous Slade finds himself also turned into a canine -- a disgruntled bulldog. Another sequel, The Return of the Shaggy Dog, followed.
Critic Reviews for The Shaggy D.A.
All Critics (8) | Top Critics (1) | Fresh (4) | Rotten (4) | DVD (2)

Ozus' World Movie Reviews
Sequel dog time with leashed laughs.

It's a goofy story, and it's far from a brilliant movie, but The Shaggy D.A. is a fun romp for a family to watch.

Audience Reviews for The Shaggy D.A.
½
A Man With a Terrible Secret Actually, you could argue that this movie is a allegory for PTSD. A man suffered a horrible trauma in his youth, and it haunts him into adulthood, coming back when he least expects it and preventing him from leading a normal life. Oh, I have no doubt that it wasn't planned that way. It was a wacky comedy from the year I was born--the second live-action Disney movie starring Dean Jones that I've done in less than a week. And maybe they've addled my brain a little--as has the heat. And certainly just because I see the possibility of a deeper meaning doesn't mean it's there. A lot of fiction can have meanings read into them that the author didn't intend; my old film teacher once wrote to Don Siegel to ask what meaning he'd intended [i]Invasion of the Body Snatchers[/i] to have, and he just basically wanted to make an interesting sci-fi flick. I doubt anyone involved in making this movie had anything more complicated than that in mind, and it's probably kind of pretentious of me to see deeper meanings than that. Still, I can't help that. I see what I see. Wilby Daniels (Dean Jones) hasn't been a dog in years. He is married to the lovely Betty (Suzanne Pleshette), and they have a son, Brian (Shane Sinutko). He even went to law school and has a practice in the same town where he grew up. One day, while he and his family are away, their house is robbed. The same robbers steal a priceless ring from the museum, too. You know the one. Belonged to Lucrezia Borgia. It's got a scarab on it, and a Latin inscription . . . . Anyway, the thieves can't sell it to their usual fence, and instead, they sell it to ice cream man Tim (Tim Conway), who also happens to own a large, white-and-black sheepdog. Wilby is so angry at the way things are being run in his hometown that he decides to run for district attorney himself. He wants to see to it that John Slade (Keenan Wynn), the crooked DA who runs the town, pays for what he's done. Tim has given the ring to his beloved, Katrinka Muggelberg (Jo Anne Worley), though she doesn't want it. Hilarity ensues, only Wilby doesn't think so. I'd really like to know what happened to Wilby's family. They're never mentioned; in the way of Disney, you only get a nuclear family. Cousins don't seem to enter into it. It isn't even as though they'd have to worry about what Kevin Corcoran was up to in 1976, because after all, they cast Dean Jones and not Tommy Kirk. (Gods love him, Tommy Kirk did not look anywhere near as good in 1976 as he had in 1959, and he'd never been the best-looking person in the world to begin with. Dean Jones was in a relationship with Suzanne Pleshette in three movies, and they matched. Tommy Kirk would have been hard-pressed to get that lucky. (Not, it should be noted, that she was his type.) Oh, the change in names makes it clear that Wilby did not marry Annette Funicello's character, who was Allison Something, but the point is that Wilby and the ring are the only continuity from the first movie. It's probably even a different ring, come to that. After nearly twenty years, it's only logical that it would be a different dog, at least, and I suppose it's not unreasonable to assume that Wilby's parents had died. But I should think that his brother would have been delighted by the sequence of events, and doubtless it would have been nice for Wilby to have someone who remembered what had gone before. I am also curious as to why Keenan Wynn wasn't Alonzo Hawk. Oh, sure, Alonzo Hawk wasn't in the first one. However, there is a certain amount of nostalgia attached to this movie, and he played Alonzo Hawk in three other movies. Presumably, the reason is that they needed his character to be an attorney in order for the story to work. That said, John Slade wasn't all that different in every other particular. It's as though Disney had a slot into which they inserted Keenan Wynn. Then again, Tim Conway played very similar characters in just about every film I've ever seen him in, and the most unusual thing about Jo Anne Worley's character is the whole roller derby thing. Which I suppose was an attempt to make the movie topical. I somehow doubt it worked. And on the special features, Dick Van Patten himself admits that he made six movies for Disney in which he played essentially the same character, and that it's the only time he ever played a villain. Really, the best part of the whole movie is Tim Conway rambling away in the special features, but it's still enough to make me a bit wistful. There were, in the Old Days, real Family Films. It's hard to express exactly what makes them right for the whole family. For one thing, the movie seldom talks down to the audience. Tim Conway's character comes across as dumb, of course, but his reactions to the fact that his dog suddenly starts talking are perfectly natural. He tries to come up with a way to make money at it. And, yes, there's no reason to assume that Tim and the Daniels clan would normally interact in any way other than Tim's selling ice cream to Brian. You can't much see Betty Daniels at the roller derby--and you can't see Katrinka at the Daisies. But Wilby and Betty don't look down on Tim and Katrinka. Both Betty and Katrinka are allowed to be funny. Wilby really genuinely cares for his son, and his son really wants what's best for his father. They're going to clean up a crooked town. All sorts of things like that. There are better movies out there; there are even better [i]family[/i] movies out there. But I don't think there are enough of them.
Edith Nelson
½
★★1/2 (out of four) Somewhat entertaining sequel to the much better "The Shaggy Dog". The usual studio suspects have been rounded up to star. Dean Jones, Suzanne Pleshette, Tim Conway, Keenan Wynn, Pat McCormick, Vic Tayback, are just a few of the cast members. Dean Jones plays Wilby Daniels, a lawyer and Pleshette is his wife. When a local crime ring with possible ties to the Disctric Attorney (Keenan Wynn) burglarizes his house, Wilby decides to run for the office in the next election and clean up the town. The problem there is that someone has gotten a hold of a magical ring and everytime they read the inscription on it, he turns into a big shaggy dog. It's all inoffensive silliness. Not great, but not bad either. [IMG]http://img.photobucket.com/albums/v48/Zeppo1/ShaggyDA.jpg[/IMG]
Steve Smith
Anthony Valletta
Super Reviewer
The Shaggy D.A. Quotes
There are no approved quotes yet for this movie.
Discussion Forum
Discuss The Shaggy D.A. on our Movie forum!