Shakespeare Retold
(2007)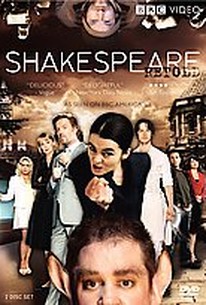 AUDIENCE SCORE
Critic Consensus: No consensus yet.
Movie Info
Rating:
NR
Genre:
Directed By:
On DVD:
Runtime:
Cast
Critic Reviews for Shakespeare Retold
There are no critic reviews yet for Shakespeare Retold. Keep checking Rotten Tomatoes for updates!
Audience Reviews for Shakespeare Retold
They were all great, but by far the BEST one was Taming of the Shrew. Shirley Henderson was absolutely brilliant as Kate. Pitting her against Rufus Sewell was pure magic. I could watch this over & over again.
Barbara Morgan
I really only watched Much Ado About Nothing & The Taming of the Shrew but OMG amazing stuff. I loved them!
Ruth L
½
Most Lamentable Comedies I read recently, I don't remember where, that no one actually believes Shakespeare's comedies are funny. That no one would watch the tragedies if they weren't forced. I couldn't help thinking that the person who wrote that had as near to no knowledge of Shakespeare's influence on the world today as is possible. Also no awareness of the actual jokes of Shakespeare. Given the person's own writing style, it was clear that the dirty jokes would appeal to them. Shakespeare wasn't above a bit of scatological humour, either. I grant you that I think [i]Romeo and Juliet[/i] is overrated if you just look at the plot, which is not as sweet and romantic as a fourteen-year-old girl would tell you, and I've always said that the true test of a real Shakespeare fan is the ability to say, "Well, okay, but [i]Troilus and Cressida[/i] isn't very good." Or [i]Timon of Athens[/i], if you'd rather. And yes, part of the reason I pick those two is that, let's face it, you have to be a Shakespeare fan going in before you've actually heard of them. And so those are not the plays we have here and updated, but we don't have [i]Romeo and Juliet[/i], either. We start with [i]Much Ado About Nothing[/i]. In this version, Beatrice (Sarah Parish) once had an affair with Benedick (Damian Lewis). It ended badly. Now, she is on a television show with the lovely Hero (Billie Piper), who is to be married to young and bashful Claudio (Tom Ellis). Benedick ends up as her co-host, to her great horror, and the others decide to spend the time leading up to the wedding getting Benedick and Beatrice back together again. It's light and pleasant, updated well and filmed well. A fair amount of the original dialogue is maintained, but "talking to a man out a window" becomes a lot more explicit. It is also set up so that it makes a bit more sense that Claudio believes it, but he's still kind of stupid, and it's still one of those romances put on fast forward for plot reasons. It is also made inarguable that Benedick and Beatrice are no longer in their first youth. It's not that they're settling. It's that they know what's there and what they really want. They may be, as they acknowledge, too wise to woo peaceably, but they are also wise enough to know that a little disagreement is not the end of a relationship. And then we have the one tragedy of the lot, [i]Macbeth[/i]. Joe Macbeth (James McAvoy) is a great chef, but he is a great chef working in another man's restaurant and forced to give that other man the credit. One night, three garbagemen predict to him that he will one day be the owner of a great restaurant himself. Really, the work the men are in gives a certain literal nature to the term "cutthroat." I'll admit I'm still rather stuck as thinking of McAvoy as Mr. Tumnus, which is a very different role. I also think the restaurant conceit is the weakest of the four. I think it's used so that they're in a business where the wielding of knives makes sense; chefs are weird about their knives. I do also know that there are some uncomfortably accurate bits here. Most new restaurants fail; everyone knows that. Being a big name isn't even necessarily enough. And, of course, there's no reason to believe that your employer would ever acknowledge the excellent work you did for them. I do get all that. However, it still seems silly to me, and I had a hard time keeping track of who anyone else was. Though of course it's also the play I know the least well. The most uncomfortable of the four is [i]Taming of the Shrew[/i]. There are a handful of plays whose difficulties are more to do with changing social attitudes than failure of the writing. [i]Merchant of Venice[/i] gives Shylock one of the best speeches in any of the plays, but he is still loathed by the characters for being a Jew. And so it is uncomfortable to watch MP Kate Minola (Shirley Henderson) give way so utterly to Petruchio (Rufus Sewell; at six feet, he's eleven and a half inches taller than she). When they take their honeymoon in that Italian villa, he steals her clothes, hides her phone, and disables the car. There is no food. He has changed the reservations so that they've had to run out on their own wedding reception, so she didn't eat there and is left wearing her wedding dress. He has also decided that the way to tell his bride-to-be about certain of his proclivities is to show up to their wedding in drag, possibly destroying her career in the process. And he will not give her back her clothing unless [i]she[/i] is nice to [i]him[/i]. Yes, she is a singularly unpleasant person going in, but that doesn't justify her total humiliation. Finally, there is [i]A Midsummer Night's Dream[/i], which may be the first Shakespeare I ever saw. Theo (Bill Paterson) and Polly (Imelda Staunton) have brought their daughter, Hermia (Zoe Tapper), to the place where they spent their honeymoon, I believe, so that she may announce her engagement to James (William Ash). Only it turns out she is in love with Zander (Rupert Evans). James is in love with Hermia anyway, and Helena (Michelle Bonnard) is in love with him. What I like about this particular version as compared to various others is that Oberon (Lennie James) is able to speak to Theo (Theseus, of course), and does. These are two old married men; unlike the original, Theo and Polly will be renewing vows. Oberon has of course fought with Titania (Sharon Small), but what of that? They have fought before and will fight again. Theo fights with Polly, but using the right words will help with that. Oberon gives Theo advice, and in the end, he takes it himself. All will be well, you see. There are thousands of ways to update Shakespeare; these are but four. For the most part, that which made him famous the first time is what carries him on now. The themes are still mostly universal, and the language is still beautiful. In several places, it seems as though the original words are left as they are because no better words are possible. It is also true that I, for one, say the originals in my head all the time. I have beside me right now the [i]Oxford Dictionary of Quotations[/i], which my mother gave me many Christmases past. There are, the introduction assures us, over 20,000 quotes in it, averaging about twenty or twenty-five to the page. Over 3000 sources are quoted. Shakespeare starts with [i]All's Well That Ends Well[/i] as quote nineteen, the last on the page, of page 655 and goes to his will, quote 3 on page 706. The Bible runs from 7:73 with the introduction of the King James version to 114:12 with III Esdras, which appears to be an extension of the Book of Ezra. When in doubt, assume a quote is from either the Bible or Shakespeare, I guess.
Edith Nelson
Discussion Forum
Discuss Shakespeare Retold on our Movie forum!
News & Features