Shanghai
(2012)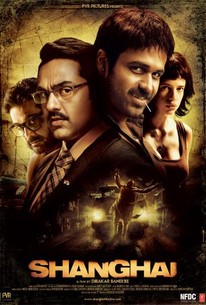 AUDIENCE SCORE
Critic Consensus: No consensus yet.
Movie Info
A small town somewhere in India is poised to become the next Shanghai. Billions of dollars are being poured into an upcoming International Business Park. On the eve of its launch a drunk truck driver mows down a prominent social activist. A lone girl believes it to be a murder, supported by a porn film maker who claims to have the proof that will bring the government down. A high ranking bureaucrat is brought in to investigate the accident. Shanghai, a political thriller, follows the journey of these unlikely heroes as they come together to find justice in the labyrinth of Indian democracy. -- (C) Official Site
Critic Reviews for Shanghai
There are no critic reviews yet for Shanghai. Keep checking Rotten Tomatoes for updates!
Audience Reviews for Shanghai
½
Shanghai takes like forever to reach its feeble and obvious climax, where we are told that an A list politician is behind a hit and run case, shown in the beginning of the film. Honestly, I would only have improved your chances of enjoying Shanghai by telling you this. For Shanghai is a film that revels in its idiosyncrasies and attention to detail rather than the actual story it delivers. An enquiry commission proceeding is disturbed in the middle, when a football flies in through the side window, bounces about and a girl who jumps in to retrieve the ball is stuck in the middle. Krishnan, an IAS officer, who is in charge of the investigation is Tamil, and slips on the wet hallway as he walks out of the tribunal room in despair. Shalini, lover and student to a left wing activist and American professor (who is hit and run), bites a rioter's hand as he tries to barge into the rickshaw that she is fleeing in. She then checks whether she is bleeding as 'Jogi', her comrade in peril, in the imaginary town of Bharat Nagar, looks on in shock. Bharat Nagar, a wannabe Shanghai, where the Union Home Minister himself makes low brow visits without informing the media, is reminiscent of the small town development in North India, amid rampant corruption and political murders we read about in newspapers like Mid-day, Tehelka and the Indian Express. Part vitriolic, part spoofy like most of Dibankar Banerjee's efforts, Shanghai's failure is its ho-hum story-line he imports from 'Z', a french thriller by Costa Gavras and not doing anything more with it. He does detour the original's shock ending granting poetic justice to Krishnan, its investigating lead down-played to perfection by Abhay Deol. I am sure most reviews of the film would rave about Emraan Hashmi instead. Something's wrong with Jogi's (his) teeth! And he is earthy, comical and plays the sore thumb in these events in Bharat Nagar and alters the destiny of its protagonists without harboring such intentions from the beginning. I have seen every film of Dibankar Banerjee on the very first day. Every single film after Khosla ka Khosla (inspired from true events in Dibankar's life) has left me wishing that he returns to smaller stories, humbler intentions and lesser shock value. A famous Malayalam quote comes to mind. "Everyone in this world would have one story to tell. That's their own story". "But to say one more, the teller needs to have the gift". We need to wait for Dibankar's future films to find out whether his story remains his best story ever. Rating - 3.5 VERY GOOD
Rahul Pillai
Shanghai is like a hard kick in the stomach that knocks you out and sends you reeling. Thank you this experience Dibakar Bannerjee & Team. :-)
Faisal Kalim
Shanghai Quotes
There are no approved quotes yet for this movie.
Discussion Forum
Discuss Shanghai on our Movie forum!