The Shanghai Gesture
(1942)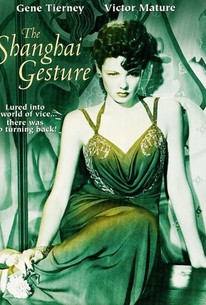 AUDIENCE SCORE
Critic Consensus: No consensus yet.
Movie Info
Josef von Sternberg made his first return to exotic Shanghai since 1932's Shanghai Express in this baroque conflagration, based on a 1925 play by John Colton that required 30 revisions before it was sufficiently sanitized to pass muster with Hays Office censors. The film takes place in the gambling den of Mother Gin Sling (Ona Munson), who finds her casino threatened with closing by stuffed shirt English financier Sir Guy Charteris (Walter Huston). Gin Sling knows that the key to keeping her casino open is to dig up some dirt on Sir Guy, and it's quick in coming. She finds that Sir Guy was compelled to leave China in a hurry some time in the past, stealing his wife's money and plotting to kill her. Sir Guy ended up abandoning his wife in China and leaving her with an infant daughter. She also finds out that Sir Guy's grown-up daughter, Poppy (Gene Tierney, is a frequent and deeply indebted guest of Gin Sling's casino. Gin Sling is now ready to blackmail Sir Guy into keeping her casino open. He tracks down his daughter and tries to convince her to leave town. But Poppy refuses to budge, having fallen in love with Doctor Omar (Victor Mature).
Rating:
NR
Genre:
, ,
Directed By:
Written By:
In Theaters:
On DVD:
Runtime:
Studio:
United Artists
Critic Reviews for The Shanghai Gesture
Audience Reviews for The Shanghai Gesture
Bruce Bruce
Super Reviewer
awesome another one of those movies think black narcississ or "the letter" that takes u to an exotic location even though all shot on hollywood studio backlot!
Greg Wood
Probably my least favorite aspect of watching classic films has to be when actors or actresses appear in "blackface". Ugh. Luckily, I can't think of too many films done entirely in blackface. Just a few scenes now and then. But not so with films in which caucasian actors are made up to look like asians. It may not be as offensive to me as blackface - but it still turns me off nonetheless. I've never really had a desire to see the one with Katherine Hepburn made up as a chinese peasant (THE DRAGON SEED) - I just can't get past the make-up enough to enjoy the story…even as kitsch. Oh, I've seen a few - especially when big named directors are associated with the project. I did enjoy Griffith's silent, BROKEN BLOSSOMS (1919) and Capra's THE BITTER TEA OF GENERAL YEN (1933) for instance - but I wouldn't place them near my favorites though. Which brings us to Josef Von Sternberg's THE SHANGHAI GESTURE (1941)…a film made methinks - 10 years too late. It's based on the play from the 1920's and was once considered much too racy to be filmed…not that it stopped Von Sternberg any. You know the Hays Production Codes would have a say though - especially when the main character is named "Mother Goddam". Mother Goddam's name was changed to Mother Gin Sling (Ona Munson) for the film. Gin Sling is the mysterious owner of a successful gambling casino in Shanghai, China. When she makes an entrance it's to the sound of a gong and dramatic music. Mother Gin Sling is the very definition of a dragon lady. Her casino is as decadent looking as her get-up - with tiered levels complete with ornate railings and candelabras. You expect Marlene Dietrich to appear at any moment and start singing one of her signature songs…but alas, Dietrich is NOT in this film. The casino serves as a mecca for the wealthier residents of Shanghai - be they of European, American, Middle-Eastern or Asian backgrounds. The casino serves also as a place for hiding out. When one is trying to run away from someone or something. Like the young, spoiled american heiress Victoria Charteris (Gene Tierney). "Other places seem like kindergarden compared to this", Victoria tells her companion upon eyeing the casino for the first time. "It smells so incredibly evil. I didn't think such a place existed except in my own imagination…anything could happen here…at any moment." But try as she might to be discreet, Victoria catches the eye of Mother Gin Sling - who orders her henchmen to gather background info on Miss Charteris. Mother Gin Sling is an old hand on gathering information on her clientele. Info which could come in mighty handy someday…especially when she learns that Miss Charteris' father, Sir Guy Charteris (Walter Huston) is planning on buying the land that her casino sits on - thereby forcing Mother Gin Sling to move to a less desirable location… Assisting Mother Gin Sling in her scheme is the shady Doctor Omar (Victor Mature), a fez wearing middle-easterner who "cheats at everything except cards". Omar is able to seduce Victoria and it is implied that he gets her drunk and doped up and used… The film feels disjointed in that way. As if scenes are missing. I've read that the film underwent much revisions due to the Production Codes and I think it shows. You can just make out certain interesting themes about the exploitation of the Orient by the West…but the film never becomes compelling enough for me. Von Sternberg's camera really brings out the beauty of Gene Tierney in the early scenes. I would have liked to feel more sympathy for her as the doped-up spoilt brat later in the film...then the ending would have had more of an emotional impact on me. I've watched this a few times but it really hasn't grown on me and remains my least favorite Von Sternberg film for now. If the oriental make-up on Ona Munson and Clyde Fillmore weren't enough…wait until you see Maria Ouspenskaya in this. Gah!!! 4
bernard anselmo
The Shanghai Gesture Quotes
There are no approved quotes yet for this movie.