Shanghai Surprise
(1986)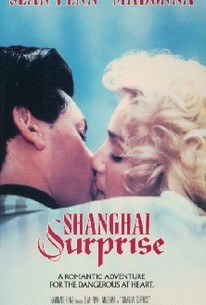 Shanghai Surprise Videos
Shanghai Surprise Photos
Movie Info
Madonna and Sean Penn, who were husband and wife at the time, starred in this notorious box-office bomb that one critic termed "Flop Suey." The film takes place in 1937, during the Japanese occupation of China. Drug runner Walter Faraday (Paul Freeman) is trying to leave the country with a large stash of opium but he is chased by armed guards and killed. A year passes and missionary Gloria Tatlock (Madonna) hires sleazy American con man Glendon Wasey (Sean Penn) to help her find the missing opium. She wants to use the drugs to relieve the suffering of wounded Chinese soldiers -- as she puts it, "Guns cause pain. Opium eases pain." Glendon reluctantly agrees. But unfortunately for the two do-gooders, there are other, more notorious seekers of the opium shipment as well. George Harrison, one of the film's producers, wrote the songs and appears in a cameo role as a nightclub singer.
Rating:
PG-13 (adult situations/language, violence)
Genre:
, , ,
Directed By:
Written By:
In Theaters:
On DVD:
Runtime:
Studio:
Vestron Video
Cast
Critic Reviews for Shanghai Surprise
Audience Reviews for Shanghai Surprise
Yes, it's time for another Madonna film screw up. And wow... this film is kind of forgettable. Yeah there are still times we get to see Madonna make a complete ass of herself, but as a whole Shanghai Surprise is just a boring and stupid flick. A lot of the time, I kept asking myself "Did I miss something"? I'm even lost when it comes this film's legacy as a box office bomb. How did anyone remember this movie even existed? Is it just because Madonna is in it? So Glendon Wasey (Sean Penn) and Gloria Tatlock (Madonna) go on this hunt for some Drug shipment of Opium in Shanghai, China and... I'm sorry that's all I got. The plot might sound simple but man it gets so complicated as the film goes on. There are double crosses, secrets revealed, it turns out some secrets were lies, some of the lies were true and yeah you probably just spotted a huge problem with this film. Shanghai Surprise is sure that it's an adventure movie when really it has no flowing plot. Absolutely nothing in this movie makes any sense whatsoever. When it comes the characters there is nothing going on in that department either. A lot of the characters are just adventure film stereotypes. There is a friend who turns out to be a foe, a villain in disguise, a woman who only serves as a sexual concubine, an obnoxious twit (of course played by the Material Girl) and some idiot who should get out of this situation but is too stupid and horny to do so. Therefore, we are stuck in this loo of nonsense that feels endless. With the exception of Richard Griffiths, everybody's acting in this movie is just awful. I can take hardly anybody in this movie seriously even for a minute. Sean Penn is very annoying and irritating in the Wasey role. It's like he's not even trying more than half the time. Then again, we have another person who can care less and of course that person is Madonna. I'll be honest, it's very hard to describe Madonna's acting anymore. There are only so many times and so many ways I can say she's a bad actress. In Shanghai Surprise, she comes off more as a whiner than a determined missionary. Yes, Madonna is a missionary in this movie... let that sink in. I am already tired of talking about Shanghai Surprise. Why was it a Box Office Bomb? I don't know and frankly I don't care. Why do we remember this movie even though nobody saw it? Because It was the first time we saw Madonna actually try to act and have it blow up in her face. All in all, it's a forgettable film with no real reason to watch it. The only real enjoyment I got from the film is either when Richard Griffiths was on screen or some unintentional hilarity coming from the fact that Madonna can't act her way out of a paper bag. All I can say is: Madonna, you say your lines but do you feel them? Do you mean what you say when no one's around? If you know what Madonna song that line is from, 10 bonus points.
Bradley Foulk
So so so boring, I caught this on TV last night, and I couldn't even understand what Penn was saying or what they were supposed to be doing in the movie. The story is ridiculous and I'm like it's supposed to be a romance or what? It was too boring for me to care, so I switched channels before the end. Stay away from this movie, it's just horrendous.
This movie gets 1 star for Sean Penn and 1 star for Madonna and that's pretty much all it had going for it!
Sarah Prisbylla
Super Reviewer
Discussion Forum
Discuss Shanghai Surprise on our Movie forum!
News & Features