Shao Lin da peng da shi (Master Killer II)(Return to the 36th Chamber)
(1980)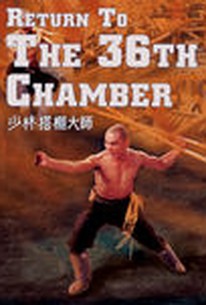 AUDIENCE SCORE
Critic Consensus: No consensus yet.
Movie Info
Lau Kar-leung follows up on his 1978 classic with this comic kung-fu flick which is more of a parody than a sequel to the original. Two-bit con artist Chi (Gordon Lau Kar-fai) convinces a group of desperate workers at a dye mill who have been denied their pay by their evil Manchu bosses that he is none other than the legendary martial arts master San Te. Chi tries to hide his utter lack of kung-fu ability until he gets humiliated by crack kung-fu fighter Boss Wang (Johnny Wang Lung-wei). Chi scurries to the Shaolin temple hoping to develop some real ability. Initially he is turned away by the monks until San Te himself takes pity on the guy. There Chi learns the skills he needs to take out Wang and thwart the baddies. ~ Jonathan Crow, Rovi
Rating:
R
Genre:
, ,
Directed By:
In Theaters:
On DVD:
Runtime:
Critic Reviews for Shao Lin da peng da shi (Master Killer II)(Return to the 36th Chamber)
There are no critic reviews yet for Shao Lin da peng da shi (Master Killer II)(Return to the 36th Chamber). Keep checking Rotten Tomatoes for updates!
Audience Reviews for Shao Lin da peng da shi (Master Killer II)(Return to the 36th Chamber)
½
Let's see what else I can do. A small town is filled with dye workers that are overtaken by the Manchu who come in with their own dye workers and quickly put the town folk out of business. A man pretending to be a Shaolin monk arrives in town and the town folk think they've been saved, but they quickly find out he's a fraud. He agrees to go to the Shaolin temple, truly learn martial arts, and comes back to save them. He is put to various tasks, but nothing he resembles as martial arts. Will the fraud be able to save the people from the Manchu? "My life is difficult." Liu Chia-Liang, director of The 36th Chamber of Shaolin, Dirty Ho, Shaolin Mantis, The 8 Diagram Pole Fighter, The Legend of Drunken Master, and Drunken Master Killer, delivers Return of the 36th Chamber. The storyline for this picture isn't a follow up to the previous picture, but a unique plot that isn't as dynamic and entertaining. The action remains excellent and Gordon Liu is awesome in the lead role. "Most of us steal food now." I watched this a long time ago and was surprised I never wrote a review for it. This was recently added to Netflix so I decided to watch it again. I enjoyed this movie and always have, but this is a step down from the original and only a classic due to Liu's greatness. This is a must see for martial arts genre fans. "I'm not a sack of grain." Grade: B-
Kevin Robbins
It's plot and drama are not as good as the first one (of course it is a comedy), and the manner in which our hero learns Shaolin Kung Fu (by teaching himself while scaffolding) is a little too improbable. However, the final twenty minutes of this movie feature fight choreography so fresh, original and inventive, that I highly recommend this to anyone. Lau Kar Leung is a master of the Kung Fu film.
Jordan Towles
A sort of spirital sequel to "36th Chamber", and i'll have to say that with better rythim and more fluid. The approach is more on the light/comic side, but the fights kick equal ass.
Tsubaki Sanjuro
Super Reviewer
Shao Lin da peng da shi (Master Killer II)(Return to the 36th Chamber) Quotes
There are no approved quotes yet for this movie.