Shaolin Master Killer
(1978)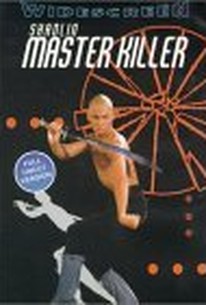 AUDIENCE SCORE
Critic Consensus: No consensus yet.
Movie Info
A pure old-school martial arts movie, beloved by aficionados, that also appeals to nonfans simply as a rousing action film. The often-imitated fact-based plot (see The Karate Kid) centers upon the rigorous training process undergone in the mid-19th century by the anti-Manchu Chinese patriot San Te (Gordon Liu). It's depicted as a grueling voyage into the unknown. Cast out of his home village when he stands up to the cruel warlord (Lo Lieh) who slaughtered his parents, the refugee seeks out the martial monks of the Shaolin Temple, who steer him through a torturous series of "chambers"--horrendous ordeals designed to build strength and agility--before he's even allowed to study boxing or swordfighting. Finally he defeats a rival by inventing a brand-new weapon, the three-section chain-linked staff. But innovation can be carried only so far; when San Te suggests opening a "36th chamber" in the temple that would teach Shaolin techniques to the populace at large (so that they can fight the nasty Manchus) he is drummed out of the corps. Naturally he returns to his home village, slaughters the baddies, and prepares to open China's first public Shaolin-style kung fu school. Many of the pupils San Te recruits in the final reel became legendary martial artists in their own right, the "Fathers of the Church" of the Chinese kung fu tradition. This is strong action entertainment with real historical resonance. --David Chute
Critic Reviews for Shaolin Master Killer
There are no critic reviews yet for Shaolin Master Killer. Keep checking Rotten Tomatoes for updates!
Audience Reviews for Shaolin Master Killer
½
This is possibly THE GREATEST Kung-fu movie ever made and being a fan of ENTER THE DRAGON and regarding that for years as the best, I took in a screening during a Martial Arts season at the NFT which showed the original language version with subtitles. It's sequel, RETURN TO THE 36TH CHAMBER, works both as a sequel and as an original film in it's own right, as it has the lead actor lampoon his original role. The plot involves a petty criminal who hides away in a Shaolin Temple on the run and thus begins to learn the various skills that will turn him into a Shaolin Monk. The goal is the 36th Chamber, which participants have to endure a previous 35 to get to with a series of increasingly impossible disciplines. Naturally you can expect what is going to happen, but the payoff of watching San Te emerge from the Temple and take on people in the town nearby is a joy to behold. Funny in a non-stereotypical way and with much to appeal to a Western audience, do catch the full two-hour version (UK versions were heavily reduced and I hope that the new version gets new screenings at some point.
Cassandra Maples
Super Reviewer
One of the best of the classic kung-fu genre.
I know this film as The 36 Chambers of Shaolin. But by any name it's still an incredible film, and basically the most amazing martial arts training film. Do yourself a favor and watch the 1hr56 version. I've only seen that version but I can't imagine anything getting cut out of it and all other version do cut it. But yah, kick ass movie.
Patrick Dolan
Super Reviewer
Shaolin Master Killer Quotes
There are no approved quotes yet for this movie.
Discussion Forum
Discuss Shaolin Master Killer on our Movie forum!