Samehada otoko to momojiri onna (Shark Skin Man and Peach Hip Girl )
(2003)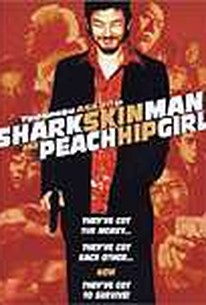 Samehada otoko to momojiri onna (Shark Skin Man and Peach Hip Girl ) Photos
Movie Info
Drawing equally from Quentin Tarantino, Hong Kong action spectaculars, Japanese anime, and the over-the-top fashion sensibility of Tokyo's Shibuya district, Katsuhito Ishii spins this dizzying propulsive flick about lovers on the run and the weirdest band of gangsters on the planet. Toshiko Momojiri (Shie Koinata) dreams of a life away from the grinding tedium of working in a run-down hotel and away from her perverted, pawing uncle who manages the place. While driving to the post office, she literally runs into Kuro Samehada (played by Japanese indie film icon Tadanobu Asano), a thief who stole a pile of loot from his former gang and is currently fleeing them dressed only in his underpants. He jumps in the driver's seat, and soon love is born. The gang is lead by a dandy of a boss (Kishibe Ittoku) who obsessively collects energy-drink ads while his son Mitsuru (Shingo Tsurumi) -- heir apparent of the gang -- sports a snow-white jumpsuit and platinum locks; they are single-minded in their lust for Kuro's pilfered loot. Meanwhile, Toshiko's uncle puts a bounty on his niece and a hit out on his new competitor for her attention. Ultra-violence, bizarre sex, and killer costumes ensue. This film was screened at the 1998 Toronto Film Festival. ~ Jonathan Crow, Rovi
Rating:
R
Genre:
,
Directed By:
In Theaters:
On DVD:
Runtime:
Studio:
Critic Reviews for Samehada otoko to momojiri onna (Shark Skin Man and Peach Hip Girl )
Audience Reviews for Samehada otoko to momojiri onna (Shark Skin Man and Peach Hip Girl )
(***): [img]http://images.rottentomatoes.com/images/user/icons/icon14.gif[/img] A very strange and entertaining movie that is in the same vein as Takashi Miike's craziest works.
TTT C
½
First of all, it is really hard to describe this movie in any way. There's so much going on and so many characters to keep track of that it's hard to decide just where to start. For a foreign film that's labeled as being incredibly violent, it's really not all that bad. There's some blood, but it's pretty tame compared to some of the other films I've seen lately. It has its moments where blood will be splattered on the wall, but you won't be seeing any decapitations or people's guts spilling onto the floor. One of Shark Skin Man's strengths, that could also be viewed as one of its weaknesses, is its cast of characters. There are so many and each one seems to have his or her own personality and brings their own quirks and mannerisms to the table. There isn't one character that reminds you of another one in the film. They're all original and stand out on their own. Its weakness is that since there are so many characters that a lot of them get so little screen time. Samehada, Toshiko, her boss at the hotel(who is also apparently her uncle...ew), and Yamada all get plenty of screen time but some of the yakuza seem to kind of get on screen, do their thing, and then don't do much else the rest of the time. There are so many yakuza to keep track of and so few that you'll actually remember once the credits roll. Tanuki pretty much gets the most screen time out of all the yakuza. He's pretty much a bad ass with knives who likes to collect enamel poster ads. Mitsuru wears all white, is insane, has that awesome zippo he's always twirling around, and apparently has an amazing sense of smell and other tracking senses. Not a whole lot is revealed about Sawada. He says he keeps having visions where he talks to God and he used to be friends with Samehada. Inuzaka is a handicapped guy who's always carrying a bat. The beating he gives Samehada will be reverberating through your mind long after the film is over. The rest of them don't really do anything worth remembering or do something brief and wind up being killed off. Yamada is definitely the stand out character of the movie. He starts off being really annoying, but as he slowly reveals that he's more talented than he first lets on and winds up being a good portion of the movie's comedic relief...you wind up liking him the more he's on screen. The film also has quite a good soundtrack that fits the film incredibly well. It reminds me of the Trigun soundtrack, which was really just rock music with a lot of awesome guitar work. The way it was shot is also kind of interesting. Depending on your taste in movies, it'll either make you love it or hate it. The movie is based on a manga with the same name, so I guess the director was going for a more comic style with directing and shooting the film. It really shows. I'm one of the people who love it and think it suits the film really well. It also has Tarantino elements in it as it jumps around in time a bit and the dialogue seems very Tarantino influenced at times. Something I have to mention is that I think I'm convinced that any film Tadanobu Asano is involved with can do no wrong. He was amazing as Kakihara in Ichi the Killer and he fits the Samehada role incredibly well. He's officially made me a fan of his and I've gotten to the point where I'll see any film he's in. Shark Skin Man and Peach Hip Girl is a quirky crime/thriller/comedy that any Tarantino fan should give a chance. The film looks amazing as the colors are incredibly vivid and the scenery is just beautiful. The cast is what makes the film as each one brings something different to the film. It's really just an oddball kind of film you should see for yourself.
Chris Sawin
½
a fun caper flick featuring an odd couple on the run from a host of colorful characters. it's very stylish, with a light tone that becomes much darker, reminiscent of a tarantino film. tadanobu asano is dead cool as ever
Stella Dallas
Super Reviewer
Samehada otoko to momojiri onna (Shark Skin Man and Peach Hip Girl ) Quotes
There are no approved quotes yet for this movie.