Sharknado 2: The Second One
(2014)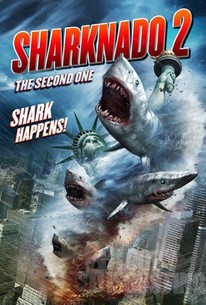 TOMATOMETER
AUDIENCE SCORE
Critic Consensus: The schlock factor for Sharknado 2: The Second One is not as entertaining as its predecessor's, though fans of the brand will likely enjoy it.
Sharknado 2: The Second One Videos
Sharknado 2: The Second One Photos
Movie Info
The sequel to 2013's Sharknado, this time set in the Big Apple.
News & Interviews for Sharknado 2: The Second One
Critic Reviews for Sharknado 2: The Second One
Audience Reviews for Sharknado 2: The Second One
After the first was garbage but fun, This one loses its newness and was exactly the same just set in New York, It seemed to focus more on how many minor celebrities can make cameos than anything and even most of them struggled to act as themselves not to mention the rest of the cast were pretty awful too, The effects were a tiny bit better but still bad, I found myself looking at how long the film had left that anything.
Jamie Clarke
Super Reviewer
Here we are with the sequel to the "infamous" B-movie that tore through social media in 2013.  Of course, no one would ever say that the first film was any good.  While I wouldn't consider myself a fan of purposely terrible movies, instead of taking that same effort and actually trying to make something that's good.  With that said, I found the first film to be perversely entertaining.  There was just a charm about it that made how bad it was oddly entertaining.  I wouldn't ever watch it again, but for a one-off, it was amusing nonetheless.  I can't say that it pains me, but this is just a terrible movie that just wears the joke out past until it's simply not funny anymore.  It's the law of diminishing returns and this started even before the first film ended.  It was a thin concept that just BARELY made it through the first film. The problem is the fact that, without question, the film is probably Asylum's biggest budget undertaking yet. And they spent all this money trying to get these well-known celebrities to appear in their film to legitimize it, somehow. They spent all that money on cameos by Al Roker, Kelly Ripa, Matt Lauer, Michael Strahan, among others instead of using it to take the "franchise" even more over the top. Go crazy, don't repeat what you did in the first film. All Asylum films are ridiculous and stupid, Sharknado was no exception, but this sequel needed to be Sharknado � infinity and not Sharknado + 1. I can't believe I'm putting this much effort into this review. I'm actually analyzing it. Talk about ridiculous. It's not like the film didn't have its moments, it's got some really ridiculous shit here, but it's just not as goofy or, forgive me for saying this, inspired as anything in the first film. The acting is still positively dreadful, Judd Hirsch provides the only legitimate laughs in the entire film, the special effects are laughable, the writing would make Quentin Tarantino's head explode. It's essentially the same as the first film, only not nearly as perversely entertaining. This is a terrible movie, which goes without saying, but it's terrible at being terrible, which is the intention. You can only count that as a failure in my book.
Jesse Ortega
Super Reviewer
Do not watch this sequel unless you know what you are in for. Having basically the same premise as it's predecessor, it doesn't do anything clever that we didn't already see in the previous film. The fact that these films are so self-aware kind of begins to really work against it, creating a sense of dullness to everything surrounding it. "Sharknado 2: The Second One" is filled with horrible dialogue, terrible visuals, and dumb action scenes, and even though they are intentional, I was not laughing much. Both of these films fail to do what they set out to, which is spoof the horror genre in a ridiculous way, because it is making fun of itself as people are making fun of it as a whole, and that is terrible filmmaking. Not only do I hate these movies, but even by guilty pleasure standards, these do not need to be made. Just stop now. Sure these films have their fan base, but that is due to the fact that people enjoy terrible movies. Let them enjoy genuinely terrible films then, you do not need to make them on purpose.
Sharknado 2: The Second One Quotes
Discussion Forum
Discuss Sharknado 2: The Second One on our Movie forum!