Shatter
(1975)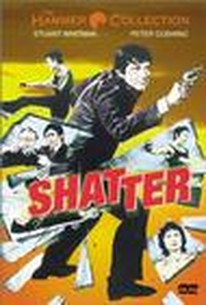 AUDIENCE SCORE
Critic Consensus: No consensus yet.
Movie Info
Mr. Shatter (Stuart Whitman) is an international assassin, hired to bump off a top government official. He is compelled to fend off a host of Oriental kung-fu and karate experts. Peter Cushing and Anton Diffring make brief appearances. The film -- shot simultaneously with Legend of the Seven Golden Vampires, which also co-starred Peter Cushing -- was something of an experiment for the ailing Hammer studios in the mid-'70s, shortly before they expired, attempting to mix an Oriental style with their own distinctly British brand of filmmaking. In most markets, Call Him Mr. Shatter was released simply as Shatter. ~ Hal Erickson, Rovi
Rating:
R (adult situations/language, violence)
Genre:
, , ,
Directed By:
Written By:
In Theaters:
On DVD:
Runtime:
Studio:
New Line Home Entertainment
Audience Reviews for Shatter
This is a Hammer Production, and I am told Hammer teamed up with the Shaw brothers which combined to make a pretty good film considering the Film is from 1974 when International Spy's were all over the screen thanks to Dr. No and Gold finger the James Bond Films, This is not about a secret agent, but has the cool things a secret agent would have. Stuart Wittman is a modern day (1974 Modern Day) killer and has been hired to wipe out a African president. He enters his hotel room with a Camera that shoots bullets, kills the president and one of his aids. Then flees to Hong Kong to collect his money, but man who hired him refuses to pay, so begins the killing, and kung fu scenes that help a low in action and drama. Peter Cushing makes a surprise appearance as the Police Commissioner of Hong Kong, this was Cushing?s last movie for Hammer. Its worth 3 stars, a good rental or pawn shop buy.
Bruce Bruce
Super Reviewer
Shatter Starring: Stuart Whitman, Lung Ti, Lily Li, Anton Diffring, and Peter Cushing Directors: Michael Carreras and Monte Hellman Shatter (Whitman) is one of the world's top assassins. After killing an African dictator, he travels to Hong Kong to collect his fee, but instead finds himself a hunted man. Shatter hates being screwed out of his hard-earned cash, so he sets about getting revenge against the crimelord who crossed him (Diffring). Along the way, he gains a young martial artist as an ally (Ti), hooks up with a sexy Chinese mama (Li), and annoys a British Intelligence officer (Cushing). Everything basically unfolds at random, puntuated with gun-battles, explosions, and car chases. From beginning to end, this movie makes no sense. I fancy myself pretty smart, but, despite the fact that the movie is populated with characters who are clearly just taking actions dictated by the plot, I can't figure out what the plot [i]is[/i]. Why does Shatter go to Hong Kong, other than the fact that the company that co-produced this travesty with a failing Hammer Films, is based there? Since those who contracted his services were planning on killing him, why wait until he was in their backyard? Why didn't Shatter arrange to be paid in a way of his choosing--it can't be surprising that criminals would want to weasel out of paying him, now could it? What is Peter Cushing's character doing in the film anyway? "Shatter" attempts to be a poor man's James Bond, but it comes across as the DT-riddled bum's James Bond. Even Peter Cushing's being featured doesn't make this one worth the time you'd spend opening the DVD case, let alone watching it.
Steve Miller
Shatter Quotes
There are no approved quotes yet for this movie.