She Creature
(2001)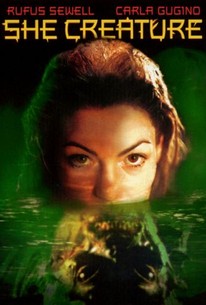 Movie Info
A couple running a rideshow discover the find of a lifetime, only to realize it could well be the death of them in this horror story. Angus Shaw (Rufus Sewell) and his wife, Lillian (Carla Gugino), run a travelling carnival which barnstorms the countryside in the early 1900s. The Shaws' circus includes a sideshow which promises much in the way of monsters and human oddities, but for the most part delivers second-rate actors dressed up in costumes or using smoke-and-mirrors effects to fool the customers. Lillian herself offers the most spectacular illusion, posing as a fake mermaid. One night, Angus offers a helping hand to an aging sailor (Aubrey Morris), and the old salt offers to show Angus and Lillian something truly amazing -- a real, honest-to-Pete mermaid (Rya Kihlstedt). Astounded by what he's seen, Angus decides the fortune he could make exhibiting a real mermaid is too great to resist, and he steals the creature from the sailor. Angus and Lillian waste no time booking passage to the United States with their find, but en route to America they discover this mermaid is hardly a benign creature -- she has a taste for human blood, and soon the ship's crew is shrinking at an alarming rate. Lillian also finds herself developing a strange psychological bond with the mermaid, a connection more powerful than her vows to her husband. She Creature was produced for the Cinemax premium cable service as part of a series of "Creature Features" produced by special effects wizard Stan Winston and former American International Pictures head Samuel Z. Arkoff, most of which were inspired by horror films AIP made in the 1950s.
Rating:
R
Genre:
, , ,
Directed By:
Written By:
In Theaters:
On DVD:
Runtime:
Studio:
Sony Pictures Home Entertainment
Critic Reviews for She Creature
Audience Reviews for She Creature
½
Really cool killer mermaid movie, even cooler. The DVD comes with a Stan Winston commentary!
Ken Stachnik
Super Reviewer
½
I remember watching this on TV. The bit of it to be accurate. And I got really interested to watch the full movie as it seemed very good. And I wasn't disappointed. Never seen such a creepy and ugly looking mermaid in my entire life. It looked more like an alien to me. The story was okay. It was a low budget movie but it was quite catchy. Do recommend it to watch.
Dead Angel
Super Reviewer
Fantastically surprising B-Movie that reaches levels of success barely met by big budget Hollywood productions. The acting is well above par, for a film of this ilk, and the casting of Gugino and Sewell really pays off. Each of them has really interesting characters and aren't just flat emotionless voids ready for the slaughter. The horror is both psychological and physical, causing jumps and moments of unexpected uncertainty. The film also does really well at introducing the mythology of the mermaid. Unlike many films, the exposition is broken up and scattered throughout the film, whilst being seamlessly woven into the story/action. It's a unexpected gem that realizes that characters come first, with murder and mayhem second.
Luke Baldock
Super Reviewer
She Creature Quotes
There are no approved quotes yet for this movie.