Sherlock Holmes and the Deadly Necklace
(1962)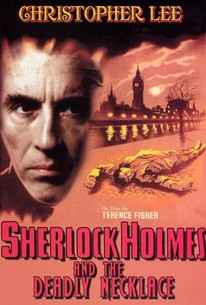 AUDIENCE SCORE
Critic Consensus: No consensus yet.
Sherlock Holmes and the Deadly Necklace Photos
Movie Info
Holmes and Watson are again after Moriarty, but this time Scotland Yard doesn't even suspect that he's the one who wants to steal the necklace from Cleopatra's tomb. This film doesn't hold together like most of the Holmes/Watson movies and is an odd interpretation of Sir Arthur Conan Doyle's story.
Critic Reviews for Sherlock Holmes and the Deadly Necklace
There are no critic reviews yet for Sherlock Holmes and the Deadly Necklace. Keep checking Rotten Tomatoes for updates!
Audience Reviews for Sherlock Holmes and the Deadly Necklace
Christopher Lee makes this film bearable. He saves the day. I have seen the film a while ago, and that's what I remember the most: that the story is mediocre at best, but Lee is so talented he could make an awful script worthy enough to watch. His persona is perfect material for Holmes. His authority and substance fill the screen. Aesthetically, the picture is reminiscent of the silent films made in the first decades of cinema, a fitting atmosphere for a Sherlock Holmes adventure.
Anastasia Bartzoulianou
Super Reviewer
The Deadly Necklace Starring: Christopher Lee and Thorley Walters Director: Terence Fisher This 1962 German film (with its two British stars and a British director) has very little to recommend it. The script is like a reject from the Universal series starring Basil Rathbone (with everything I don't like about the weaker efforts among those amplified ten-fold here, most notably Watson being portrayed as a bumbling, retarded simpleton), with an unbearably bad score. (Christopher Lee has supposedly said that he is pleased with the film. While I won't quibble with his opinion that he and Walters more closely resemble Holmes and Watson than any other on-screen pair, I don't think it's enough for anyone to be pleased with this weak effort.) The plot of "Sherlock Holmes and the Deadly Necklace" sees Holmes and his arch-nemisis Professor Moriarity matching wits over an Egyptian necklace owned by Cleopatra, witih it being stolen and re-stolen several times through the film. There are a couple of interesting moments between Holmes and Moriarity (who is played by an appropriately sinister actor), but the downside is that they feel like they belong more in a hard-boiled, pulp fiction detective novel than a Holmes adventure.
Steve Miller
Sherlock Holmes and the Deadly Necklace Quotes
There are no approved quotes yet for this movie.
Discussion Forum
Discuss Sherlock Holmes and the Deadly Necklace on our Movie forum!