Shield for Murder
(2003)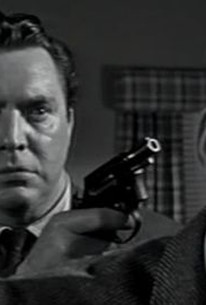 AUDIENCE SCORE
Critic Consensus: No consensus yet.
Movie Info
A corrupt police officer looks to escape justice in this sleuth crime drama directed by Edmond O'Brien and Howard W. Koch. When an officer named Barney (O'Brien) is in desperate need of money, he decides to take that money by lethal force from a bookie, but commits the crime in eyesight of a deaf mute man on the street. Although the cop looks to make his cold-blooded act look like a random crime, his plot quickly begins to unravel. Marla English co-stars as Barney's girlfriend, Patty.
Critic Reviews for Shield for Murder
Audience Reviews for Shield for Murder
½
***Spoilers Ahead, Most Definitely*** I'm not into Film Noir flicks so I wasn't really expecting all that much out of Shield For Murder but it turned out alright.The things that stick out most for me in the movie are Edmond O' Brien (Of course) as the corrupt cop Detective Lt. Barney Nolan (What a GREAT name) I've probably seen a few other movies that Edmond O' Brien has been in but never really paid attention that he was in it.That's going to change.The spaghetti dinner scene (I don't know what else to call it) was brutal.I can see a scene done like that today but with blood & brains splattered all over the table.Sorry if I've grossed anybody out but that's the way movies are done nowadays.They go for the shock factor instead of trying to make you think.I like the way the scene was done because like I said if a scene was shot like that today, it would've been gory & you would've actually seen the beating take place.In the movie you saw just enough to know what's happening & the screams & looks of horror on the diners faces was the perfect touch.The shootout at the pool was something way different that I haven't seen until I watched Shield For Murder.It's the 1st time I've seen something done like that & haven't seen it done in any other movie.The final scene where Nolan used his police tactics to try & escape from the police who were looking for him.Going into the police station & stealing a uniform, calling into the police station to find out what information they had on him, etc, etc, etc.Lastly, the end scene where Nolan was killed right in front of the model home he planned on buying.I would have to say Shield For Murder is worth taking a look at if you are a fan of Film Noir or enjoy crime movies like I do
Brody Manson
Super Reviewer
Shield for Murder Quotes
There are no approved quotes yet for this movie.
Discussion Forum
Discuss Shield for Murder on our Movie forum!