Shinbu sueob (Love So Divine)
(2004)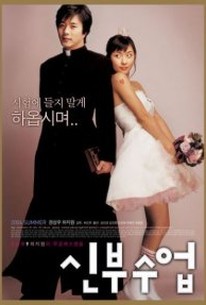 AUDIENCE SCORE
Critic Consensus: No consensus yet.
Movie Info
A soon-to-be priest meets his mentor's peppy, American-educated niece. The unlikely couple hit it off - now he is forced to question his commitment to priesthood.
Critic Reviews for Shinbu sueob (Love So Divine)
There are no critic reviews yet for Shinbu sueob (Love So Divine). Keep checking Rotten Tomatoes for updates!
Audience Reviews for Shinbu sueob (Love So Divine)
Another one of those fluffy and light South Korean rom-coms that didn't really do much of anything for me. While the movie does focus on a soon-to-be priest's questioning his commitment to god due to his falling in love with his mentor's niece, this movie plays out pretty much exactly like your typical South Korean rom-com. Silly and goofy first act, somewhat serious second act with the leads figuring out their feelings for each other and the sentimental third act where it's teased that nothing will ever happen between these two. While they do play with the lead's commitment to god versus his more earthly desires, I found this movie to be, really, a little dull and vanilla. The latter can be said about a lot of these films, they all lack a certain edge and seem to be the film equivalent of bubblegum pop. It's safe and relatively harmless. I realize these films are made for a South Korean audience and their particular sensibilities, so I'm not trying to suggest that they should be made for what I find enjoyable. But, at a certain point, there has to be somebody that needs to take all of these cliches and stereotypes and just do something turns all of them upside down. Something like Cabin in the Woods for South Korean rom-coms. Maybe it has already happened and the film just hasn't been seen on this side of the world. The acting is fine, but there's just nothing that really makes me feel that these two are really in love with each other. I mean the film is telling you that they're falling in love, but you never really get a sense that they are. It's not that they don't have chemistry, but the situations they find themselves in don't really make great usage of what these two could've, potentially, done together. Like the romance is basic, surface-level stuff. It doesn't go too deep in detail into their romance. Which, again, is meant to appeal to Korean sensibilities, at least to the sensibilities of a more casual crowd. The story is simply, yet unrealistically, told. I'm not saying that these films should be super realistic, but there's no denying that the people in these films don't actually represent what Korean couples are going through. Relationships are far more complex than that and I wish that films like these reflected that complexity. But, like I said, I understand why they go with this approach. They're trying to appeal to a broader audience. With that said, the movie isn't bad or anything, it's just a little dull and fairly uninteresting to watch. It doesn't really strive for greatness, or even goodness. I can't really say that I'd recommend this, it's a below average movie. The acting was decent, but there's no real chemistry between the leads and the story is substandard, so that should tell you everything you need to know.
Jesse Ortega
Super Reviewer
Shinbu sueob (Love So Divine) Quotes
There are no approved quotes yet for this movie.