Shirin
(2009)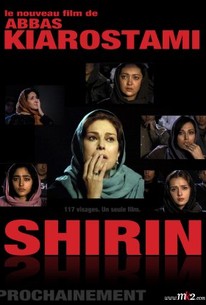 Movie Info
A hundred and fourteen famous Iranian theater and cinema actresses and a French star: mute spectators at a theatrical representation of Khosrow and Shirin, a Persian poem from the 12th century, put on stage by Kiarostami. The development of the text -- long a favorite in Persia and the Middle East--remains invisible to the viewer of the film, the whole story is told by the faces of the women watching the show.
Rating:
NR
Genre:
,
Directed By:
In Theaters:
On DVD:
Runtime:
Critic Reviews for Shirin
Audience Reviews for Shirin
½
While entertaining, beware that you are not really watching a film. You are watching an audience of Iranian women who are viewing a film you can only hear (sound effects and all). I did get sucked into the story of Shirin, Queen of Armenia (which was like listening to a good audio book), but I didn't find that viewing the faces of the audience actually added anything profound to my experience as a viewer/listener. I agree that 30 minutes of this experience would have been enough.
Tracy Ware
This is the story of Khosrow and Shirin, a Persian poem from the twelfth century, put on stage by Kiarostami. You see the movie only through faces of the women watching the "show". So, in come sense, it is like listening to the radio! However, what a masterpiece by Kiarostami. Loved it!
dan umi
Shirin (Abbas Kiarostami, 2008) I am normally a fan of both capital-A-art-film (Begotten is in my top ten films of all time) and Abbas Kiarostami (I was pretty rapturous about A Taste of Cherry, and only slightly less so about Ceritifed Copy), so Shirin, about which I knew not a bloody thing other than that it seems to be Kiarostami's least accessible film (The Guardian called the film âa strain on the viewerâ?). It turned out that the capsule description on Netflixâ"which is so often incomplete, or entirely wrongâ"was perfectly accurate in this case; the film is an hour and a half of close-ups of women watching a movie (anecdotally, not even the movie portrayed here). There are men in the audience; they can be seen in the background occasionally. But all of the close-ups are of women, mostly Iranian, one French. Normally, I get it. I understand what Radha Bharadwaj was on about in the vastly underrated Closetland, I saw without any problems what Stan Brakhage was doing in pretty much every one of his movies I've seen, Derek Jarman's Blue made perfect sense to me, even if I didn't think it actually worked all that well. But here, I didn't have clue one what Kiarostami wanted to tell me. I am more than willing to entertain the possibility that it's not the movie, it's me, and this one simply went right over my head. But if Kiarostami had a point to make here, in my estimation, he missed it. We have a series of close-ups and nothing more. *
Robert Beveridge
Shirin Quotes
There are no approved quotes yet for this movie.
Discussion Forum
Discuss Shirin on our Movie forum!