Le Frisson des vampires (The Shiver of the Vampires)
(1970)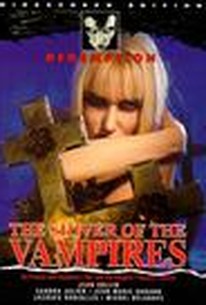 AUDIENCE SCORE
Critic Consensus: No consensus yet.
Movie Info
French cult director Jean Rollin had his roots in the avant-garde film movement, so it's no surprise that many of his early films are nearly unwatchable. This vexing piece of psychedelic nonsense concerns newlyweds Antonio and Ise, who visit an old castle owned by the bride's dead cousins. When Ise is too grief-stricken to consummate her marriage, a vampire named Isolde pops out of a grandfather clock and plays with Ise's breasts then takes her to the cemetery and bites her neck. Isolde is joined by two lesbian servants and Ise's undead cousins -- a pair of bourgeois male vampires who wear hippie clothes and spout incomprehensible philosophy. A subplot involves a village woman named Isabelle, who slept with both of the cousins when they were living vampire-hunters. Isolde ends up killing her while wearing ten-inch spiked pasties. It is up to dull Antonio to get his wife out of the castle before she becomes a vampire, but he fails, so he ends up crying on a beach after Ise, and her cousins are disintegrated by the morning sun. Every other scene seems to use a different colored gel -- from red and blue to a sickly orangish-purple -- and Rollin includes a great deal of mist and wind to add "atmosphere," -- as well as a dreadful score by a teen-rock group called Acanthus, which mercifully disbanded shortly afterward. Rollin eventually improved, becoming a master of erotic horror, but this film shows no evidence of such talent. Sandra Julien co-stars with Jean-Marie Durand, Jacques Robiolles, and Michel Delahaye. ~ Robert Firsching, Rovi
Critic Reviews for Le Frisson des vampires (The Shiver of the Vampires)
Audience Reviews for Le Frisson des vampires (The Shiver of the Vampires)
½
A honeymooning couple stop at a creepy castle to visit the bride's distant cousins, but they've been turned to vampires. Director Jean Rollin's formula is beautiful visuals, thick Gothic atmosphere, a thin but dreamlike plot that's pared down to the bare essentials of the vampire genre, and ample nudity and eroticism. It works here.
½
A pretty good vampire movie, very 70s, but it lacks fangs, and the story could use some rewriting, but other than that, it's atmospheric and a pretty good vampire movie.
Le Frisson des vampires (The Shiver of the Vampires) Quotes
There are no approved quotes yet for this movie.