Shoah
(1985)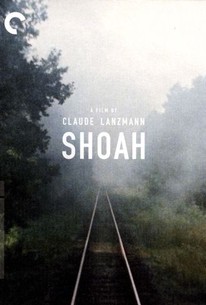 TOMATOMETER
AUDIENCE SCORE
Critic Consensus: Expansive in its beauty as well as its mind-numbing horror, Shoah is a towering -- and utterly singular -- achievement in cinema.
Movie Info
The creators of the brilliant French documentary Shoah courageously assume that their audience is willing to sit through 570 minutes' worth of interviews and little else. As unpromising as this sounds, rest assured that you will sit and listen. Relentless "inquisitor" Claude Lanzmann probes the memories of several survivors of the Holocaust--as well as several ex-Nazis who helped perpetrate the horrors. Gradually, one becomes aware that what happened in Germany and occupied Europe in the years 1933 through 1945 was not as "unthinkable" as it may seem to modern viewers; the recollections of those directly involved demonstrate all too well that it can happen anywhere at any time. One review of Shoah has carped that "it really could have been a bit shorter." No, it couldn't.
Rating:
NR
Genre:
, ,
Directed By:
In Theaters:
On DVD:
Box Office:
$15,642.00
Runtime:
Studio:
Audience Reviews for Shoah
It's taken me a long time to decide what to say about this film because it left me fittingly speechless. I still feel at a loss for words trying to describe why this film is one of the most important pieces of filmmaking ever created. It's something I believe everyone should see at least once in there lifetime. It's indescribable and simply needs to be experienced to be understood. I give it a five star, but the film sort of transcends my typical rating system. Just seek it out if you ever get the chance. You don't need to watch it in a single sitting, break it up, because it's a monumentally draining film.
Michael Stuhlman
Although it can be very unsettling, Shoah is made in a way that makes it more than an account of the events, it makes it a living and breathing record. Full Review: http://www.movie-blogger.com/movie-review/singular-achievement-film
Derek Weishaupt
An extremely valuable document of the extermination of Jews during WWII. The twenty-five years since it's release add a second layer as a document of the 70s, when it was filmed. I am ambivalent about the length of the film. The length allows us to get to know the interviewees and the locations well and become immersed in the details of lives lived so immersed in horror that it became, for some, routine. On the other hand, the innumerable and sometimes repetitious advancing or retreating shots and the subtitling of the interviews conducted via translator could have been tightened up in editing to cut an hour or more off the running length with little chance of undermining it's impact. I expect that the running time was more effective in the mid-Eighties when the film was released and these stories were a revelation than it is now when most of us have been exposed to many, many details of WWII that were less easily shared in the decades closer to the war.
Michael Harbour
Shoah Quotes
There are no approved quotes yet for this movie.
Discussion Forum
Discuss Shoah on our Movie forum!