Shock-O-Rama
(2005)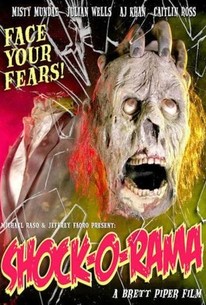 AUDIENCE SCORE
Critic Consensus: No consensus yet.
Movie Info
When popular horror actress Rebecca Raven (M. Mundae) gets the axe from the 'B' movie studio that made her a household name, she travels to the country for some rest and relaxation...and a bloody confrontation with a flesh-starved zombie hungry to bite off more than it can swallow. Meanwhile, the frantic studio executives must rummage through past productions to find a sexy new star for their next film, and they come across two fright flicks that may offer a solution. Mechanoid features tiny, killer aliens - on the run from intergalactic police - that crash-land in a New Jersey salvage yard and battle its pissed-off proprietor with a 50-foot-tall creature borne of scrap metal and junked parts. In Lonely Are the Brain, an over-sized, under-stimulated hunk of evil gray matter experiments on beautiful young women for the sole purpose of experiencing human sensual pleasure. Does either film star the next "Rebecca Raven," who could soon be nothing but zombie left-overs?
Critic Reviews for Shock-O-Rama
All Critics (1) | Fresh (1) | Rotten (0)
It's a spoof, a satire, and an homage all rolled into one, and its affection for the old-style drive-in flicks is tempered with just enough of the new-style "gore & hooters" approach.
Audience Reviews for Shock-O-Rama
½
"You know, just once - just ONCE - I would like to be in a film that is not a complete and utter f***ing embarrassment! I'm not asking for Shakespeare, I'm not asking for Anton Chekhov, I'm not even asking for David fricking Mamet...I just once would like to be in a film that doesn't make me cringe at the thought of people actually watching it." A B-movie horror-comedy blast, at least for 2/3rds of the time. If you're acquainted with Misty Mundae movies, then you'll love her segment as Rebecca Raven, an underground movie star sick of being known more for her nudity than her acting. Playing a more belligerent version of herself (one hopes!) a tide of winking self-referential mockery comes flowing like a Bruce Campbell twitter feed. Seeking solitude, she escapes to an isolated country house that she bought on the cheap because the previous owner was involved in some demonic rituals - and, it turns out, is not what you'd call 100% dead. Meanwhile, the studio producer is in search of the next Rebecca Raven and screens two short films, so essentially Shock-O-Rama consists of three mini movies. Mecharachnia is occasionally funny (a pursuing police spaceship has the best lines) but way overlong for the material. Lonely Are The Brain gets back on the scoreboard with AJ Kahn growing suspicious about the neurological experiments she and other young women are participating in under the supervision of evasive sexy doctor Julian Wells. Your mileage may vary, but I had a fun time with this sendup which no doubt was greatly enhanced by familiarity with its participants.
Doctor Strangeblog
Super Reviewer
Shock-O-Rama Quotes
There are no approved quotes yet for this movie.
Discussion Forum
Discuss Shock-O-Rama on our Movie forum!