Shonen merikensakku (The Shonen Merikensack)
(2009)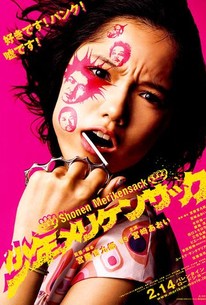 AUDIENCE SCORE
Critic Consensus: No consensus yet.
Shonen merikensakku (The Shonen Merikensack) Photos
Movie Info
A long lost punk rock band hits the comeback trail, whether they like it or not, in this comic mockumentary. Kanna (Aoi Miyazaki) is an A&R executive with a record company, Maple Records who has been told she needs to find a hot new act soon if she wants to save her job. Kanna finds some blistering live footage on the internet of a punk rock band named the Brass Knuckle Kids, and she's convinced she's discovered Japan's next great rock band. However, Kanna learns that the online clip dates from 1982; undeterred, the label's chief (Yusuke Santamaria) is eager to reunite the band, have them cut a new album and put them back on the road. Kanna tracks down Brass Knuckle Kids guitarist Akio (Koichi Sato), who is working a menial job in a restaurant; he's anxious to put the band back together despite being close to fifty years old and struggling with a drinking problem, and with Kanna's help he rounds up the rest of the band. Bassist Haruo (Yuichi Kimura), who is also Akio's brother, is now a dairy farmer who prefers to have nothing to do with his old bandmates; drummer Young (Tomorowo Taguchi) is ready to take the stage again and even gets his Mohawk back in shape for the occasion; and lead singer Jimmy (Kazunobu Mineta) is game even though he can barely get out of his wheelchair. Can these aging rebels set aside their differences and grab the brass ring they missed years ago? The Brass Knuckle Kids' music in the film was written and recorded by real-life Tokyo punk band the Ging Nang Boyz. ~ Mark Deming, Rovi
Critic Reviews for Shonen merikensakku (The Shonen Merikensack)
There are no critic reviews yet for Shonen merikensakku (The Shonen Merikensack). Keep checking Rotten Tomatoes for updates!
Audience Reviews for Shonen merikensakku (The Shonen Merikensack)
½
The Shonen Merikensack displays the writing and directing talents of Kankurô Kudô. Both are more than mediocre.
While containing a run time of a few minutes over 2 hours, The Shonen Merikensack never lets up on its off the wall style. The story telling is quite good, and as the picture progresses the more touching it becomes. Flashback segments, documentary type interviews, and a few brief animation sequences all describe parts of the story at various intervals.
In the early going, the humor is comical, but it eventually dries up. It isn't that the laughs stop coming. The jokes and comedic bits just lack that witty humor from the initial portions. Nevertheless, this picture still entertains.
Aoi Miyazaki is just fantastic, as she delivers on all facets of her character. She is worth the price of admission. The cast that make up the members of "The Shonen Merikensack" band are also amusing to see.
The Shonen Merikensack tends to come across as a bit childish for older audiences and definitely a bit mature for younger audiences. Still, most will find some fun in it.
Shonen merikensakku (The Shonen Merikensack) Quotes
There are no approved quotes yet for this movie.
Discussion Forum
Discuss Shonen merikensakku (The Shonen Merikensack) on our Movie forum!