Shoot on Sight
(2007)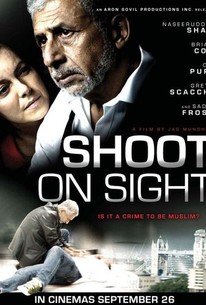 Movie Info
A man is torn between his faith, his family, and his profession in this taut thriller. Tariq Ali (Naseeruddin Shah) was born in Pakistan and raised in a Muslim household by parents who later emigrated to London, but he's been willing to set a certain amount of his cultural identity aside in order to advance his career in law enforcement. Tariq is married to Susan (Greta Scacchi), who is both British and Christian, and they're raising two children, Zara (India Wadsworth) and Imran (Arrun Harker). Tariq's intelligence and professionalism have helped him become a top detective at Scotland Yard, but when a suspected Muslim terrorist is shot and killed by police, Tariq is assigned to investigate in hopes of defusing public anger over the incident. As Tariq looks into the victim's background as well as the actions of the police, the media uncovers evidence of Tariq's friendship with Junaid (Om Puri), an outspoken Islamic leader who is believed to be linked to several terrorist groups. Shoot on Sight also stars Brian Cox, Sadie Frost, and Laila Rouass.
Critic Reviews for Shoot on Sight
Audience Reviews for Shoot on Sight
Shah's performance is really good, but the rest of the cast lags behind. Looks and feels like a made for TV event at times and the dramatic feel made me struggle to make it to the end of this one. add comment
Dimitris Ladas
½
"Shoot on Sight" starts with an unarmed Muslim, suspected of being a terrorist, shot and killed by police in the London Underground. Deputy Police Commissioner Daniel Tennant(Brian Cox) employs Commander Tariq Ali(Naseeruddin Shah) to not only be the public face of the inquiry, but also to head it which he readily accepts, feeling he is a step closer to a promotion. He in turn brings on board Ruby(Laila Rouass), a trusted colleague, as his assistant. It is a good thing Tariq is a policeman since he has to bail out his teenaged daughter Zara(India Wadsworth) from jail after a rave before promptly grounding her for a month. Things are not always so fractious at home as Tariq and his wife Susan(Greta Scacchi) welcome his cousin Zaheer(Mikaal Zulfikar) from abroad. "Shoot on Sight" is a frustrating movie that desperately wants to have its cake and eat it too in its depiction of a Muslim community under siege in London after 7/7. The movie depicts that community as just wanting to live in peace as fanatics preach violence to a small minority. Of course, nothing good ever came from violence. All of which is good and decent but none of this, despite a good cast, is very involving. In fact, it is heavily contrived and sometimes even lacking in basic logic. Take the opening sequence for example. No matter how high the terror alert may be, would police really go in guns blazing on just an anonymous tip when there are probably so many? Plus, there is no ambiguity to the scene and therefore to the rest of the movie.
½
A film that looks and feels like a TV movie. It has a message, but it's a message that is painfully obvious to anybody with the slightest bit of intelligence. It's also handled in a very patronizing and contrived way. The performances range from very bad - Brian Cox (i.e. Excellent). The film does make mention of more interesting political and social elements, but goes for the easiest story to tell. Just in case you were wondering, most Muslims are not terrorists, but some extremists are.
Luke Baldock
Super Reviewer
Shoot on Sight Quotes
There are no approved quotes yet for this movie.
Discussion Forum
Discuss Shoot on Sight on our Movie forum!