Shoot or Be Shot
(2002)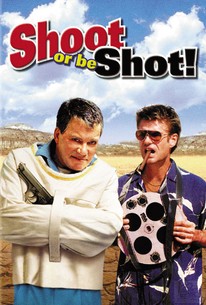 AUDIENCE SCORE
Critic Consensus: No consensus yet.
Movie Info
Star Fleet commander-turned-kitsch icon William Shatner stars in this satirical comedy that takes aim at the Dogme 95 filmmaking movement. Shatner plays Harvey Wilkes, an escaped mental patient who also happens to be an aspiring screenwriter. Armed with a pistol, Harvey hijacks a film crew and orders them to make his movie. Former L.A. Law regular Harry Hamlin co-stars as the film's producer. Shoot or Be Shot marks the feature debut of director Randy Argue.
Rating:
PG-13
Genre:
Directed By:
In Theaters:
On DVD:
Runtime:
Cast
Critic Reviews for Shoot or Be Shot
All Critics (1) | Fresh (0) | Rotten (1) | DVD (3)
Audience Reviews for Shoot or Be Shot
An escaped lunatic (Shatner) holds a film crew hostage to force them to make his screen play. Meanwhile, love blooms between the creatively lazy diretor (Rinker) and his leading lady who, to show she can do something other than low-budget crap, has taken on a new identity... and is an actress pretending to be a struggling actress (Christie). "Shoot or Be Shot" is a fairly predictable and thoroughly unbelievable movie populated by stereotypes belonging to the bottom rung of Hollywood's film business--the low-budget outfits that have been the source of the vast majority of the film's reviewed on this very page. Despite the lack of surprises, the film offers up a large amount of laughs, and William Shatner is lots of fun as he cuts completely loose as a technical writer who snapped after writing one VCR instruction manual too many and who now has turned to screen writing. (It's even funnier that his character is probably the only one in the whole film who has any real talent.) Speaking of talent, there seems to be a bare minimum of it coming into play in this film. The script has some great jokes and Shatner is riot... and these elements by themselves keep this film slipping below the high end of average. Most of the featured actors give weak performances, and the director was unable to keep the reality of the film he created intact by engaging in the sort of sloppiness that should have gone out with the 1970s and which has no place in a movie that's satirizing low-budget filmmaking unless it's trying to self-ironic, which "Shoot or Be Shot" wasn't. (I can't go into details without revealing the ending--although any attentive viewer guess it well before the filmmakers reach it--but suffice to say that the movie that results from the tribulations of the film crew isn't one that anyone could possibly have shot.) With just a little more effort, this could have been a good movie instead of mediocre one. Shoot or Be Shot (aka "Shooting Stars") Starring: William Shatner, Harry Hamlin, Julianne Christie, and Scott Rinker Director: J. Randall Argue
Steve Miller
½
SHOOT OR BE SHOT IS ONLY A MILDLY AMUSING SATIRE ON THE FILM INDUSTRY. WILLIAM SHATNER ISN'T TOO BAD IN THIS ONE. IT HAS A FEW GOOD MOMENTS BUT THEY ARE NOT OFTEN ENOUGH.
James Higgins
Discussion Forum
Discuss Shoot or Be Shot on our Movie forum!
News & Features