Shooting Livien
(2005)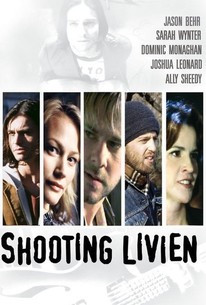 AUDIENCE SCORE
Critic Consensus: No consensus yet.
Movie Info
An aspiring musician on the brink of stardom attempts to do battle with his personal demons before they finally get the best of him in an emotional musical drama from filmmaker Rebecca Cook. John Livien (Jason Behr) is a struggling New York City rocker who, along with band-mates Owen (Dominic Monaghan) and Robby (Joshua Leonard) sense that they are onto something big. Though Livien's devoted girlfriend Emi (Sarah Wynter) and hard working manager Brea Ally Sheedy do their best to support the band and provide the volatile singer with a comfortable environment in which to create, the prospect of standing face-to-face with his own worst inner fears may be enough to drive the increasingly unstable Livien to the point of no return.
Critic Reviews for Shooting Livien
All Critics (4) | Top Critics (1) | Fresh (3) | Rotten (1) | DVD (3)
A hypnotic portrait of an almost-famous artist, Shooting Livien is alert to how creation and self-destruction go hand in glove.

Philadelphia Inquirer
Top Critic
When the worst you can say about a director is she tried too hard... chances are you're talking about someone who will one day... blow audiences away.

Audience Reviews for Shooting Livien
Dominic was so great in this movie! I loved it! A bit confusing at times, but I pulled almost everything together in the end, haha.
Jennifer Curtis
[font=Comic Sans MS][size=3][color=indigo]I wanted to watch this movie because Dominic Monaghan was in it. After seeing him in Lords Of The Rings movies, I want to see him in other things. [/color][/size][/font] [font=Comic Sans MS][size=3][color=#4b0082]This movie is interesting. Not sure if I fully absorbed it yet. It is basically about a rock band and it's lead singer/writer. And John Lennon. The band in on the brink of stardom and the lead singer has issues. The music is really good. And would love to have the CD. [/color][/size][/font] [font=Comic Sans MS][size=3][color=#4b0082]Not only does it stars Dominic Monaghan, there is Jason Behr, Joshua Leonard, Sarah Wynter and Ally Sheedy. I would say the whole cast was great. It was just a little odd film. Check it out and tell me what you think.[/color][/size][/font] [font=Comic Sans MS][size=3][color=#4b0082]Donna A.[/color][/size][/font]
Donna A.
½
The last day Ive my trip. This one was just kindve a jumble of movies I decided might be decent. It turned out to be the most dissapointing as only half of what I saw was really good. The first was a collection of cartoons including a new cartoon by Don Hertzfeldt the cult animator. It was overall pretty good. Some were actually awesome and some were just boring and not very worthwhile. So it was overall a good collection though. Next up I headed down to the Convention Center to see Derailroaded. A movie about the Musician Larry Wildman Fischer. It was pretty good and at the very least incredibly interesting. They didnt interview many people though so you only got glimpses of the man through a few people. But Larry is basically this guy whos schizophrenic and worn down, hasnt ever reallly had a real job and despite releasing 4-5 records, he never made much money. Mostly because his music is so out there, much like Wesley Willis. Last movie I saw was called Shooting Livien. I don't really know what was up with this movie. It shouldve and couldve been alot better. The lead actor was really abominable. Dominic Monahagn was in the movie and he was really good but it was a shame the movie, about this guy whos basically obsessed with John Lennon, was so bad. It really did have potential as a movie, but ultimately it just fails.
Dane Johnson
Shooting Livien Quotes
There are no approved quotes yet for this movie.
Discussion Forum
Discuss Shooting Livien on our Movie forum!