Shopworn
(1932)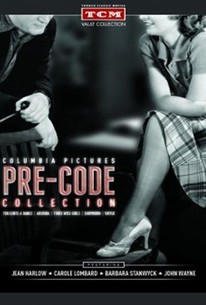 AUDIENCE SCORE
Critic Consensus: No consensus yet.
Movie Info
In this convoluted romance, a working-class girl's marriage to a rich physician is sabotaged by his elitist mother who manages to get the innocent woman jailed under false charges, prompting her to later achieve great success as a singing sensation, picking up her affair where it left off.
Critic Reviews for Shopworn
Audience Reviews for Shopworn
½
This is a pretty ordinary little film about a young waitress (Barbara Stanwyck) who falls in love with a wealthy college student (Regis Toomey) who will go on to become a doctor, and how his mother strives to break up their relationship. I rounded it up a bit because of Stanwyck's performance; she is such a natural and has a couple of great scenes. I also liked how she was such a strong woman - her character was toughened by her father's death, and she stands up to unwanted advances while waitressing, endures being sent away to a woman's reformatory on morality charges, and tells Toomey off when he returns to her after she's made it as a dancer. Being committed for trumped up morality reasons is outrageous today, but it was reality then, and the mother had also considered getting her committed to an asylum, a real practice stemming from the 19th century. If you don't like 'em or they're threatening in some way, lock 'em up. The ending is unfortunately a little dippy, but you could do worse than watch this one, and it's almost entirely due to Stanywck. One of the great scenes has her throwing money in a guy's face after he tries to bribe her into leaving town to get her out of Toomey's life: "What are you trying to make of me - what you wish I was? Something cheap and common, something that money can buy? Well, you can't. Nobody can! You and the nice, decent people who sent you here are the real cheap ones, trying to put a price on something there isn't any price for! If that's being decent, I'm glad I'm common! If that's being rich, I'm glad I'm cheap, and I'm gonna stay cheap! Because no matter how cheap I am, I'm not for sale!"
Antonius Block
Super Reviewer
½
Hopelessly cliche story but Stanwyck rises above it with her great talent and intensity. She looks amazing as well.
Shopworn Quotes
There are no approved quotes yet for this movie.
Discussion Forum
Discuss Shopworn on our Movie forum!