Shot in the Heart
(2001)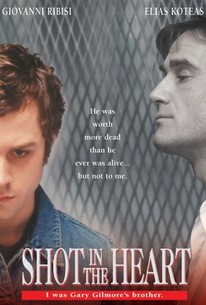 Movie Info
This gripping drama is based on the real-life story of Mikal Gilmore, a respected journalist whose brother Gary Gilmore was a felon convicted of murder. In 1977, after he was sentenced to death, Gary Gilmore generated international controversy when he demanded that his lawyers call off all attempts to appeal his sentence and requested that his execution be carried out as quickly as possible. As activists for and against the issue of capital punishment debated Gilmore's demand, his brothers Frank and Mikal stepped forward to request a stay of execution, in hopes of forestalling their brother's death despite his public requests. Based on the book of the same name by Mikal Gilmore, Shot in the Heart examines the close, if uneasy, bond between the Gilmore brothers, and the family history of abuse and violence that Mikal believed helped shape his brother into a killer. Shot in the Heart stars Giovanni Ribisi, Eric Bogosian, Lee Tergesen, Amy Madigan, and Sam Shepard; produced for the premium-cable service HBO, Shot in the Heart first aired on October 13, 2001.
Critic Reviews for Shot in the Heart
Audience Reviews for Shot in the Heart
He was worth more dead than he ever was alive. This is one of the most emotional films ever created. Enough said, this is a powerhouse. The Story: Gary Gilmore is sentenced to die in 1977. It's a battle of ethics and a race against time, as his youngest brother only has one week to stop it. Do you save the life of a loved one, or are you just interfering with his right to die? Growing up, never really knowing each other, this is the story of two brothers finally getting the chance to get to know each other... But it's too late. It's based on the true story of Gary Gilmore and is a true cinematic work of art. The lighting style, and the cinematography are amazing here. The Cast: Giovanni Ribisi, Elias Koteas... There's not enough words in the english dictionary to describe how great these two act together. Perfectly cast as Gilmores baby brother, Giovanni Ribisi plays the part with more conviction here than ever before. You'll definitely feel his pain and sorrow as he struggles to understand his brother and fights to make the right decision. Elias Koteas plays Gary Gilmore, playing it superbly, he's an actor that should be seen more often. I guarantee you're going to feel his anger, his frustration, and even what little happiness he has. These two will break your heart, and if you don't feel it than you must the coldest person alive. One to Five Scale: 5 This is probably one of the hardest ones to find from my list of movies to see. It's an HBO original from 2001, and somehow managed to get my hands on a copy of it on DVD, used for about five dollars... So good luck finding it... And if you do find it, DON'T HESITATE TO PICK IT UP!!! You won't be disappointed by this one. Tyler
Tyler Martinez
½
maybe somewhat interesting for some as its about a prisoner on death row who?s family wants to try to get him to change his mind about his death sentence. (not electric chair some other way) Giovanni Rimbisi (sp?) plays the youngest son & the jail bird I think was the eldest of 3-4 brothers. The movie takes place (if I remember right) in the 70s. The mother loves Johnny Cash as well as at least one of the sons. To my surprise Paul Wesley (aka Stephan Salvatore of Vampire Diaries) plays the eldest bro when he was in his teens/20s. There?s a pic at the end of it where he looks like one of the NJ Devils players the way he?s smiling.) anyway I didn?t fall asleep but to me it was kind of boring BUT it was interesting. D
Kym (c my community profile) Salvatore
Super Reviewer
This film is based on the beautifully written book by the same name. It illuminates the effects violence and crime have not only on the victims' family, but the perpetrator's as well. The book is much better but the performances and soundtrack bring life to the story. Giovanni Ribisi is golden. You'll want to reach through the screen and take him into your arms...Eric Bogosian is well- Eric Bogosian. Watching this movie made me want to see Talk Radio again and reread Sam Shepard's Motorcycle Chronicles. The soundtrack does much to capture the heart of the movie.
Allyson Jones
Shot in the Heart Quotes
There are no approved quotes yet for this movie.
Discussion Forum
Discuss Shot in the Heart on our Movie forum!