Shout at the Devil
(1976)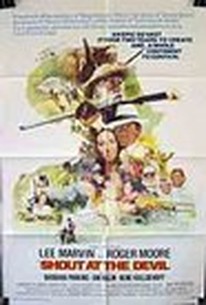 Shout at the Devil Photos
Movie Info
Based on the novel by Wilbur Smith, this film follow the scheme of a proper English gentleman, Sebastian (Roger Moore), and a wild Irish-American, Flynn (Lee Marvin), as they set out to destroy a German battleship docked in East Africa before the outbreak of World War I.
Rating:
PG
Genre:
, ,
Directed By:
Written By:
In Theaters:
On DVD:
Runtime:
Studio:
American International Pictures (AIP)
Critic Reviews for Shout at the Devil
Audience Reviews for Shout at the Devil
Shout! Factory re-issued this Spring a movie that is perhaps one of the lesser known wartime period pieces to have been released during the 20th Century. The movie in question is the World War I period piece Shout at the Devil. This 1976 film, starring Roger Moore (For Your Eyes Only, The Spy Who Loved Me, Moonraker) and Lee Marvin (M Squad, The Dirty Dozen, The Man Who Shot Liberty Valance), is a movie that deserves a second chance and rightfully has gotten one thanks to the people at Shout! Factory. The story's script is the central reason for it to get that look that it otherwise might not have gotten in its original release. The script's premise is pretty simple to follow, which leaves plenty of time for action throughout its length. Also worth noting is the acting on the part of both Marvin and Moore. The duo's on screen presence makes suspension of disbelief quite easy, thus making the movie that much more enjoyable whether one is seeing it for the first time or the first time in a long time. And last but not least is the movie's special effects department. While the movie is at its heart an action flick, the over-the-top explosions and other special effects that are overly used in today's movies are nowhere to be found here. It seems like a minor detail. But reality is that it is quite important in the overall scheme of things. Each of the factors noted here are important at their own level. Altogether, they show just why Shout at the Devil is one of the 20th Century's more underrated action flicks and war-time period pieces. When asked to name some of the greatest war-time movies ever crafted during the 20th Century, most audiences will likely rattle off movie titles such as The Great Escape, Schindler's List, Patton, and other big name movies. The likely reason for this is that movies centered on World War I are so few and far between. Next to Shout at the Devil perhaps the only other movie centered on that World War I that most audiences will come up with when asked to name any is All Quiet on the Western Front. Odds are few people will name Shout at the Devil as a matter of fact. Given the chance to watch this movie, word might finally spread now that it has been re-issued in a Blu-ray/DVD combo pack. And one reason that word might spread is the movie's script. The script behind this movie is pretty simple. It sees Marvin and Moore as Colonel Flynn O'Flynn and Sebastian Oldsmith respectively. The pair goes toe to toe with German officer Herman Fleischer (Reinhard Kolldehoff) in a game of cat and mouse across Africa. After Fleishcer and his men set fire to the village where O'Flynn and Oldsmith are staying with Oldsmiths' wife and child things get very personal. That's because Oldsmith's newborn is killed in the process. The pair is then given reason to join forces with the British Navy to hunt down Fleischer's battleship and sink it. It's as simple as that. So it leaves one wondering why some viewers didn't like this movie. Perhaps those are the viewers that should give this movie another watch now that it has been re-issued on Blu-ray/DVD box set courtesy of Shout! Factory. Perhaps a second watch will allow those audiences to see it more clearly and in turn appreciate it for that script, if nothing else. The script penned for Shout at the Devil is central to the overall enjoyment of this period piece. Working in direct connection with the script is the acting on the part of its lead cast. There is obvious chemistry between Moore and Marvin throughout the movie. Their interactions show that. From their first scene to their fight when O'Flynn's daughter announces that she and Oldsmith are going to get married, to Oldsmith's reaction to being volunteered for the mission to find Fleischer's battleship, their interactions with one another pull viewers effortlessly into the movie. Audiences will find themselves laughing quite a bit at the contradiction of personalities between the duo at so many points throughout the story. And even in the story's few more emotional moments, they both pull off their parts expertly. That ability to interpret each scene and properly emote will easily keep audiences engaged and entertained. In turn, they make the movie's roughly two-and-a-half hour run time fly by thus proving once more why this little-known movie so rightly deserved its re-issue from Shout! Factory. The acting on the part of Lee Marvin and Roger Moore in Shout at the Devil and the movie's script are both important parts of the movie's enjoyment. There is one more factor to examine in the movie's overall presentation that makes it a movie worth watching. That final factor is the movie's special effects. Those that give this movie a chance will note that it is both a drama and an action flick. No action flick is complete without a certain amount of special effects. The problem with Hollywood today is that it relies far too much on special effects to make up for what is an otherwise boring film that lacks any real substance. The case with Shout at the Devil is the exact opposite as today's movies. Given, studios didn't have access to the resources in 1976 to which they have access today. Regardless, those behind the movie's special effects used the resources at their disposal at a minimum. The flight scenes were obviously filmed in front of a blue screen as was the scene early on in which Fleischer's battleship rams the tiny boat carrying O'Flynn and Oldsmith. But in comparison to other movies released in the late 70s, these special effects were actually respectable. They didn't look so deliberate that one would end up simply shaking their heads at said scenes. And even the final scene, which will not be revealed here, kept the explosions to a minimum. They weren't the over-the-top flash-bang-boom trips on which filmmakers such as Michael Bay and James Cameron go in their movies. Simply put, the special effects used in Shout at the Devil were used as part of the story rather than to make up for lack of story. And that balance with the writing and acting serves as part of the whole that once more makes Shout at the Devil a movie that any movie buff and military movie buff should see. This is regardless of whether said individuals will see the movie for the first time or for the first time in a long time. Shout at the Devil is available now in stores and online in a double-disc DVD/Blu-ray combo pack courtesy of Shout! Factory. It can be ordered direct from the Shout! Factory online store at http://www.shoutfactory.com/product/shout-devil. More information on this and other releases from Shout! Factory and Timeless Media is available online at http://www.facebook.com/shoutfactoryofficial, http://www.shoutfactory.com, https://www.facebook.com/pages/Timeless-Media-Group/358391474233364, and http://www.timelessvideo.com. To keep up with the latest sports and entertainment reviews and news, go online to the Phil's Picks Facebook page and "Like" it at http://www.facebook.com/philspicks and "Like" it Fans can always keep up with the latest sports and entertainment reviews and news in the Phil's Picks blog at http://philspicks.wordpress.com.
Philip S
½
The curiosity of "can the next scene be worse than this one?" carries one through this rambling, bumbling brainfart of a film. Only my love of Lee Marvin allowed me to make it to the credits. Beware.
Mark Baumgardner
½
This movie proves that good stars do NOT always save a film for me no matter how hard they try. And I really did hope for great things. Lee Marvin and Roger Moore team up to sink a battleship in WWI in Africa. Now where have I heard of that one? (try African Queen). Only the team of Bogart and Hepburn did their film much better because they obviously had something better to work with than this one. For a sample go here: http://www.youtube.com/watch?v=NgEWSuajBCs Peter R. Hunt (On Her Majesty's Secret Service) directed this World War I action-adventure, based upon the novel by Wilbur Smith. Roger Moore and Lee Marvin team up as Sebastian, a witty and cosmopolitan Englishman, and Flynn O'Flynn, a boozy and ornery Irish American, who decide to blow up a German battleship that has been hidden away for repairs in Southeast Africa. Helping the two in their quest to sink the battleship is Sebastian's wife Rosa (Barbara Parkins), who has her own reasons for seeing the ship destroyed -- the Germans took the life of her only child. One more impressed reviewer commented: "...this deserves to be much better known. Unfortunately it was lambasted by ignorant and ridiculous critics on both sides of the Atlantic upon its initial release, so it was re-edited and much of the more moving aspects of the film were cut out. As it stands, the video release and television versions in the UK show only about 2/3ds of the finished film." Another wrote: "I taped this movie on AMC network a number of years ago. One of my favorite movies. Great clip posted here, but a few more seconds would have showed Moore and Marvin's faces at the wedding. What a funny sight. A very underapprieciated movie "Shout at the Devil" is, what a shame that fact is." Critic Roger Ebert wrote: "Shout at the Devil" isn't great cinema, but it's great fun." A big, dumb, silly movie that's impossible to dislike. It's so cheerfully corny, so willing to involve its heroes in every possible predicament, that after awhile we relax: This is the kind of movie they used to make, back when audiences were supposed to have the mentality of a 12-year-old. It's great to be 12 again." Well, be that as it may, from what I saw of it, Shout at the Devil was tough to get through from the start. Its something to do with the pacing, the cinematography, the natives, or god knows what else, but at 2.5 hours long, this is very long indeed. I just was not in the mood. Starring Lee Marvin, Roger Moore, Barbara Parkins Director: Peter R. Hunt (also directed On Her Majesty's Secret Service) NOTES about the film: 1 There was enormous controversy about the film being made in South Africa under the apartheid regime. Roger Moore was also heavily criticized for making The Great Gold Conspiracy (1974) and The Wild Geese (1978) in South Africa during the apartheid era. 2 The story of the film was inspired by one of the most spectacular and adventurous events that took place during WWI, in German East Africa, later Tanganyika, later still Tanzania, in late 1914 - early 1915, known as Battle of Rufiji Delta, in which the German light cruiser SMS Königsberg was blockaded and finally sunk by various British units. Runtime: 150 min Sound Mix: Mono Color: Color (Technicolor) Country: UK Language: English | German (some dialogue) Release Date: 20 May 1976 (Netherlands)
monsieur rick
Shout at the Devil Quotes
There are no approved quotes yet for this movie.