Shôwa kayô daizenshû (Karaoke Terror)
(2003)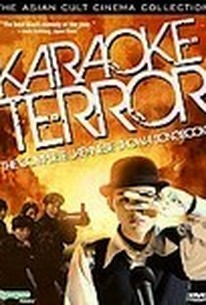 AUDIENCE SCORE
Critic Consensus: No consensus yet.
Movie Info
Audition writer Ryu Murakami returns to shock and surprise movie lovers with this darkly satirical comedy about an absurd street war between two gangs of violent, karaoke-loving outsiders. The Gakis are a gang of young slackers whose primary passion in life is staging elaborate karaoke recreations of the nostalgic, Showa-era songs (classic hits from the 1940s to the 1980s) they grew up on. The Midoris are a group of thirty-something female divorcees who share a similar passion for classic karaoke hits, yet despite their similar interests these two crews are about to become locked on a cataclysmic collision course. When a Gaki is rejected while trying to pick up a Midori, the humiliation proves too hard to handle and he instinctively kills the woman. The Midoris quickly retaliate, and the war is on. At first both gangs rely on knives and guns to exact their vicious revenge, but before long a simple bullet just won't suffice. As the violence escalates and both gangs up the ante by securing increasingly advanced and destructive weaponry, two generations forgotten by society clash in an explosive frenzy of apocalyptic fury. ~ Jason Buchanan, Rovi
Critic Reviews for Shôwa kayô daizenshû (Karaoke Terror)
There are no critic reviews yet for Shôwa kayô daizenshû (Karaoke Terror). Keep checking Rotten Tomatoes for updates!
Audience Reviews for Shôwa kayô daizenshû (Karaoke Terror)
½
How do you explain a movie like Karaoke Terror? I guess one way to describe it is a twisted film about the generation gap. This film really does have a unique concept, which is enough to get anyone to at least take a glance at it.
The title itself is a little misleading. This is not a horror picture by any means, but it is somewhat violent, which is probably where the "Terror" in the English title comes from. The story deals with the vengeful killing between two groups of people. It is 5 middle aged women versus 6 young males (around their 20's). The first 20 minutes or so is a little tedious, but once you realize how the rest of the movie is going to play out, you can't help but continue to watch. It is funny how the deaths just grow and grow as the movie progresses. The pace itself is pretty slow with little to know action. The kills are rather quick, which leaves the parts in between feeling a little lackluster. The story does take advantage of these parts by giving a bunch of background on the characters. The women get a bunch of dialogue driven scenes, while the males not so much. The young men do have the more hilarious sequences though, which is not surprising.
The acting is quite good. It is a little tough to pick a main character with the way that the movie plays out, but I would have to go with Ryuhei Matsuda as the lead. There really isn't all that much to the acting, but in the end everyone works out.
I don't really know who this film will cater to, but let me say that this is one of those films that isn't visually stunning or full of non stop excitement. Yet, you have to keep watching. It is also one of those films where you'll probably not watch the DVD too often, but you are proud to have it as part of your collection. You know what? Just watch this flick.
Shôwa kayô daizenshû (Karaoke Terror) Quotes
There are no approved quotes yet for this movie.
Discussion Forum
Discuss Shôwa kayô daizenshû (Karaoke Terror) on our Movie forum!