Showdown at Area 51
(2007)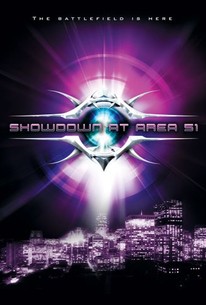 AUDIENCE SCORE
Critic Consensus: No consensus yet.
Movie Info
Two alien races have crash-landed on Earth and set out in search of the obelisk that monitors all life on the planet, and now the future fate of mankind lies in the efforts of one benevolent extraterrestrial to deactivate the device before his nemesis reaches it first. Sixty years ago, the Omega race left several ether-rods on the plane before blasting back into outer space. Now it's up to an Omegan named Jude to find those rods and deactivate the obelisk. Should he fail in his mission, malevolent Omega-cinterion Cronin will no doubt activate the device - effectively erasing all traces of mankind. As the race between the two aliens heats up and the threat of ultimate apocalypse grows, mankind remains blissfully unaware just how close to the brink they truly are.
Rating:
R
Genre:
Directed By:
Written By:
In Theaters:
On DVD:
Runtime:
Critic Reviews for Showdown at Area 51
There are no critic reviews yet for Showdown at Area 51. Keep checking Rotten Tomatoes for updates!
Audience Reviews for Showdown at Area 51
½
More like Slowdown at Area 51. This is the kind of movie where people are constantly urging "Let's go, we have to hurry!" and then creep along like they're in a haunted house. Not even Farscape's Gigi Edgley can salvage anything ater showing up 1/3 in with her sorely underwritten part. Weak in all respects.
Doctor Strangeblog
Super Reviewer
After all these years, just another leading role for Jason London, however, in such lame TV-film crap.
WS Wu
The only reason I finished watching this movie was to see which one of the two aliens was really the bad guy. And that was only because I had actually paid to rent this movie from Blockbuster. The movie was nothing but confusing. First of all, if it's supposed to be about Area 51, then I had no idea there was so much vegetation out there in the desert. Trees, rivers, grass, dead leaves from all the deciduous trees. Then, they supposedly drove to the place where the Omega Seed was hidden *** in Missouri *** all in a few hours in an antique car. Last time I checked Nevada and Missouri were a really long way apart. The acting was horrible. The special effects were 1980's and the whole thing was extremely low budget. And did I mention confusing? It's interesting how many times the two aliens fight each other either hand to hand or stun gun versus buzz saw (not kidding) only for one to leave the other still alive. The fights are in slow motion. Bullets through the windshield don't affect the driver. Soldiers bent on stopping the humans from helping the "good" alien suddenly disappear near the end because they couldn't stop a work truck with a hail of bullets. This conveniently allows the two humans and the two aliens to duke it out at the end with no interruptions from the US government. There are so many things in the movie that don't advance the plot or don't make any sense. ... and park rangers don't have high level security clearances. I wish I had my $5 and my 1.5 hours back. I wish this review could make sense, but it's at least more coherent than the movie was.
philip peacock
Showdown at Area 51 Quotes
There are no approved quotes yet for this movie.