Showdown in Little Tokyo
(1991)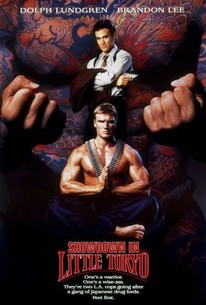 Showdown in Little Tokyo Videos
Showdown in Little Tokyo Photos
Movie Info
Director Mark L. Lester modeled this police action drama on the Hong Kong style, guaranteeing plenty of over-the-top action sequences. Dolph Lundgren stars as police detective Chris Kenner, an American raised in Japan. He is given a new partner, Johnny Murata (Brandon Lee, making his Hollywood debut), a Japanese raised in America. The two are made for each other -- Chris doesn't appreciate American culture, while Johnny doesn't much like Japanese culture. One thing they both enjoy are the martial arts, of which they are experts. The two are assigned to L.A.'s Little Tokyo, trying to nab the notorious Yoshida (Carey-Hiroyuki Tagawa), a drug manufacturer using a local brewery as his distribution center. Yoshida, a member of the Yakuza, has brought the residents of Little Tokyo to their knees. But Chris has personal reasons for wanting to get Yoshida -- as a child he witnessed Yoshida murdering his parents. When Yoshida rapes and kidnaps Minako (Tia Carrere), a beautiful lounge singer, it's the last straw and Chris and Johnny set out for Yoshida's heavily guarded home for a big showdown.
Rating:
R (adult situations/language, violence)
Genre:
,
Directed By:
Written By:
On DVD:
Runtime:
Studio:
Warner Home Video
News & Interviews for Showdown in Little Tokyo
Critic Reviews for Showdown in Little Tokyo
Audience Reviews for Showdown in Little Tokyo
½
[img]http://images.rottentomatoes.com/images/user/icons/icon13.gif[/img]
Directors Cat
Super Reviewer
"Gee whiz, i think there are more bad guys out there than we have bullets!"
Coxxie Mild Sauce
Super Reviewer
½
LOLZ. Well... an early 90s action movie carrying on the influences of the 80's, including bad lines, bad hair, bad fashion and drugs, booze and shameless sex. Its an action movie with beef-steak, sushi, and swords and guns. Typically fits in the so bad its watchable category, B grade style. Anyways, Dolph rapid rise to fame began to deteriorate with this one, his last major hurrah being Universal Soldier, which came out on year later, then a Hollywood haitus for 15 years before the B grade sequel Universal Soldier Regeneration which got some above average reviews, and the major release The Expendables. Playing the large, heroic samurai warrior-cop, he teams up with the charismatic and cocky Brandon Lee, to take on a Yakuza gang in "Little Tokyo" led by a sadistic evil leader who has a sordid history with Lundgren. Its a battle of cops and gangbangers dealing drugs. Throw in a very sexy Tia Carrere as the love interest, (though eye candy is all she's good for) and pretty much its amazing how a 80 min movie can get so much done. Its obvious it was chopped and edited badly as WB probably were unhappy with the result, but hey, short and sweet, for some its great that it was a short movie so they would be spared further pain, for others like me, it was short and to the point of what could have been a major disaster. Mark Lester's directorial star is still Arnie's Commando, the epitome of 80's action, bad one liners, fashion, though it had less sex and nudity, but the violence was still up there. But since this was a mix of guns and martial arts, its obvious Lester has no experience directing martial arts scenes, fluid action lost to poor cinematography and bad camera angles. In contrast, the simple punch and guns firing were typical action quality. The rest is all trademark bad movie. Accordingly, an older script was more dark and serious, and less comedy. Also there were a few cuts in certain scenes, but it as edited because Warner Bros were unhappy and gave it a limited release. There's also a lot of stuff ups and goofs.... a huge list. Also a typical trademark of bad movie-making. XD Anyways... cheap thrills and cheap comedy. Its a classic bad movie. But its easy to watch, though whether its enjoyable is in the eye of the beholder. XD
Showdown in Little Tokyo Quotes