Showgirl Murders
(1996)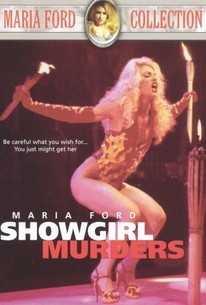 AUDIENCE SCORE
Critic Consensus: No consensus yet.
Movie Info
In this erotic thriller, a conniving young woman slips her boyfriend a Mickey and steals his stash of cocaine. She heads to Los Angeles and convinces a bar owner to put her in charge of entertainment. She brings in exotic dancers, and business improves, but her jilted boyfriend shows up.
Rating:
R
Genre:
,
Directed By:
On DVD:
Runtime:
Studio:
Califilm
Critic Reviews for Showgirl Murders
There are no critic reviews yet for Showgirl Murders. Keep checking Rotten Tomatoes for updates!
Audience Reviews for Showgirl Murders
'Showgirl Murders' is a tongue-in-cheek erotic thriller starring Maria Ford (Angel of Destruction, Strip Teaser, Ring of Fire II) as Jessica Cross, a sexy, mysterious stripper expert in the arts of manipulation, murder, and... Ummm, stripping. Although it comes with a pedestrian plot lifted straight out of a Lifetime tv movie, this is another of Roger Corman's trashy C grade gems. The story is simple: black widow with a shady past walks into the lives of a married couple on the skids. Black widow starts out innocently enough as waitress, gradually becomes stripper, makes bar lots o' money. Black widow moves in on husband, taking advantage of wifey's huge alcohol problem. Conspiracies abound involving murder, insurance money, and badly lit sex scenes. Black widow's shady past catches up with her initiating more manipulation, murder, and badly lit sex scenes. C grade comedy gold is the result. Maria Ford did great in this, as always. Back when I was a teenager, she was one of the IT girls for me in DTV land. She had this "skanky hot" quality that I just found irresistable. Out of the gate, it's off the chain. She poisons her boyfriend, hits the road, and a myriad of B cup strip action (along with a nice nipple ring Ford acquired somewhere) and over the top Ford diva faces are shown on screen, as our anti-heroine makes it to our hapless bar-owner couple on the rocks, Mitch and Carolyn. The actors who play Mitch and Carolyn (Matt Preston and D.S. Case) I haven't seen anywhere else, and I can only guess this is the only movie they've done. The husband is a typical louse thinking with his piece and not his brain, and the booze hound wife provided many laughs. The film's explanation for why she's such a drunk is typical: she ran over a kid on her way to the bar's grand opening (!) I also enjoyed the scene where she got all drunk and tried to strip before falling off the stage and bashing her head on a table. Speaking of the strip scenes, they're aplenty in here, so you won't be disappointed if that's what you're looking for.The strip scenes become increasingly darker and more S&M in feel as the movie progresses, I guess reflecting the dark underbelly Mitch is descending into with Jessica. I couldn't help chuckling through the opening credits, because they list the strip scenes as "choreographed and costumed by Maria Ford." Who is this lady? Jean Claude Van Damme or something? I guess the strip scenes here are akin to the fight scenes in a Van Damme movie now. In that case, 'Showgirl Murders' is the stripper equivalent to 'Kickboxer.' The movie's title is obviously a cash-in on the notoriety (I wanted to say success, but was it?) of 'Showgirls,' an equally campy film that came out the same year. Both films feature chicks with a shady past, but I think Maria Ford definitely outdid Elizabeth Berkley in the camp department. The only drawback here is that there is no Gina Gershon equivalent for our anti-heroine to feud with. I can't really recommend this unless you're a big fan of bad movies. If you're looking to watch another 'Slum Dog Millionaire' this ain't it. However, if you want to see Maria Ford do what she does best (strip, act badly), you can't do any better than this, or maybe 'Angel of Destruction.' I'd say this movie blows 'Showgirls' and 'Striptease' out of the water. But like I said, I like Brian Bosworth movies and my idea of great cinema begins and ends with 'American Ninja II.' Still, 'Showgirl Murders' is a fun movie for those willing to think outside the movie theater box.
Jason Anderson
Showgirl Murders Quotes
There are no approved quotes yet for this movie.