Shredderman Rules!
(2007)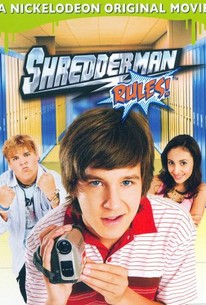 AUDIENCE SCORE
Critic Consensus: No consensus yet.
Shredderman Rules! Videos
Shredderman Rules! Photos
Movie Info
A kid discovers a unique way to stand up for himself and his friends in this family-friendly comedy-drama from director Savage Steve Holland. Nolan Byrd (Devon Werkheiser) is a bright fifth grader who has a knack for creating electronic gizmos and a fondness for remote-control model planes. Nolan is also skinny and shy, which makes him a constant target for thick-headed bully Bubba Bixby (Andrew Caldwell), the son of local sewage magnate Bob Bixby (Daniel Roebuck). Bubba makes life miserable for most of the students at Nolan's school, including Isabel (Francia Almendarez), the girl Nolan worships from afar, but no one is sure what to so about him. An assignment from his teacher Mr. Green (Tim Meadows) gives Nolan the idea to secretly videotape Bubba as he tortures his classmates and post the results online, where parents, teachers and others can see him in action. Needing an alter ego, Nolan creates the online identity "Shredderman," and soon "Shredderman"'s website is the talk of the school as he exposes Bubba's misdeeds to the world. However, "Shredderman" soon has bigger fish to fry when he uncovers evidence that Bob Bixby is planning a scam that will bilk the city for an expensive water processing plant they don't need. Shredderman Rules was based on the popular Shredderman novels for kids by author Wendelin Van Draanen.
Rating:
NR
Genre:
, , ,
Directed By:
Written By:
In Theaters:
On DVD:
Runtime:
Studio:
Sony Pictures Home Entertainment
Audience Reviews for Shredderman Rules!
½
Unfortunately the cast of likable actors, music and decent camerawork isn't enough to make this school bully story relevant in today's world. There are a lot of cliches in its story and characters that out date it rather than making it close to today's culture. For my full review of Shredderman Rules (2007), check it out on this IMDB link: http://www.imdb.com/title/tt0828450/reviews-6
Nick Salvemini
½
[font=courier new]Normally I wouldn't stoop this low for a film, I have thousands of other movies I'd rather watch. I'd usually never even think about watching a straight-to-Nickelodeon movie. But these were special circumstances. You see, I'm a huge Savage Steve Holland fan. Anybody that created [i]Better Off Dead[/i], one of my all-time-favorite films, gets a lifetime pass. He also created two extremely funny, but mostly-forgotten flicks; [i]One Crazy Summer[/i] and [i]How I Got Into College[/i]. [/font][font=courier new]It's been nearly twenty years since he directed a feature length film. For some reason he's been stuck in TV hell, directing tween schlock like [i]Even Stevens[/i] and [i] Lizzie McGuire[/i], becoming one of Nickelodeon's go to guys. I don't know how this movie came together, don't really care, don't even remember how I saw that he was involved. (Probably on a random trip to his [/font][url="http://imdb.com/name/nm0390822/"]IMDb page.[/url][font=courier new]) But here I was so desperate for anything Savage Steve that I rented something called [i]Shredderman Rules[/i]. [/font] [font=courier new] This TV movie is about Nolan Byrd, a mild-mannered, teen nerd with great ambitions. His opportunity comes when his beloved town park is being closed by the school bully's father, who wants to turn it into a sewage plant. Nolan uses his mad Internet skills, under the alias of Shredderman, to oust the evil-doers, save the day and win the girl. A completely boring and straight-as-an-arrow plot. Nothing about it intrigued me in the least. But of course I'm about twenty-years beyond the intended viewing age. [/font][font=courier new]Blessedly the film is short and not too brain-numbingly painful. Tim Meadows, [/font][url="http://imdb.com/name/nm0035664/"]Curtis Armstrong[/url][font=courier new], and [/font][url="http://imdb.com/name/nm0827565/"]Mindy Sterling[/url][font=courier new] offer some brief moments of comic-relief. Dave Coulier, of [i]Full House [/i]fame, offers up his usual lame attempts at humor, as Shredderman's dad. The kid in the lead role isn't horrible, but not a great discovery either. The best performance in the film is by the kid playing the bully, not realistic, but so-over-the-top cartoony that he has a couple of good moments. [/font] [font=courier new] So how was it from the Savage Steve Holland angle? Mostly unnoticeable... if I hadn't known he directed this, I never would have guessed. There are a couple of fun camera moves and a brief bit of animation, but mostly it looks and plays like the sad TV movie it is. I don't know if he was reigned in by his Nickelodeon producers or if he's lost it over the years, I'm hoping it's the former. Looking at his IMDb page, [/font][font=courier new]there seems to be a sudden influx of new projects in the works for him, maybe [i]Shredderman[/i] was worth something, if it lead to this. [/font][font=courier new][i]Legally Blondes[/i] a straight-to-video sequel to the okay chick-flick, which I'll probably also stoop to watching simply for S.S.H.'s involvement. He also has a National Lampoon film called [i]Ratko: The Dictator's Son, [/i]which sounds a little better, but the National Lampoon films have been terrible for decades, so I'm not holding out too much hope. But most exciting is a film called [url="http://www.filmwad.com/the-return-of-savage-steve-holland-2771-p.html"]The Big One 3[/url], which according to the link might be something of a return to form, an original feature film, written by the man himself. Sounds promising! [/font] [font=courier new] So... maybe if you're an unimaginative eight-year-old you could enjoy [i]Shredderman Rules[/i], otherwise don't bother. Unless you're completely hard-up for something new from S.S.H., and I mean like jonzing-for-heroin bad, but even then you're better off watching one of his original three for the 20th time or waiting and wishing for [i]The Big One 3[/i] to pan out. _____________ Originally written for: [url="http://whatiwatchedlastnight.blogspot.com"]What I Watched Last Night[/url] [/font]
Ross Williams
OMG OMG I LUV THIS MOVIE I LUV DEVON WERKHEISER SOOOOOOOOOOOOOOOOOOOOOOOOOOOOOOOOOOOOOOO MUCH!!!!!!!!!!!!!!!!!! :)
Chan-Chi .
Shredderman Rules! Quotes
There are no approved quotes yet for this movie.
Discussion Forum
Discuss Shredderman Rules! on our Movie forum!