Shrieker
(1998)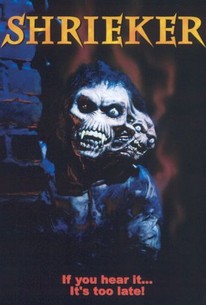 AUDIENCE SCORE
Critic Consensus: No consensus yet.
Movie Info
This horror film centers on a ancient snarling demon who demands five human lives as sacrifice for its knowledge. Now it terrorizes a group of college students hanging out in an abandoned hospital.
Rating:
R (violence, language)
Genre:
,
Directed By:
Written By:
In Theaters:
On DVD:
Runtime:
Studio:
Full Moon
Critic Reviews for Shrieker
There are no critic reviews yet for Shrieker. Keep checking Rotten Tomatoes for updates!
Audience Reviews for Shrieker
Full Moon managed to sneak out somewhat of a hidden gem with "Shrieker". A definite recommendation for those who enjoyed demonic/monster-type horror films such as The Unnameable, Curse of the Demon/Night of the Demon, and/or The Incubus. Low on actual gore (of course I cannot recall a Full Moon feature that was anything much of a gore-fest and this movie definitely does SCREAM Full Moon style! tho i think it is one of the better FM releases) but I thought this movie delivered well on suspense, mystery and even mentions to squeeze in some large, almost gothic-like, large castle-esque atmosphere even tho it takes place in an abandoned hospital during modern times! Pretty cool.
Michael Joseph
½
Shrieker is a title from Full Moon Entertainment that I had heard about back when it was originally released, but I never actually got around to watching. Like I mentioned in my review for Murdercycle, I picked up a few titles during Full Moon's last sale and Shrieker was one of those titles. While its director David DeCotaeu's style can be less than desirable at times, he has been behind the camera for some of Full Moon's best movies. Shrieker isn't as bad as some of DeCotaeu's worst efforts for this studio, but it fails to showcase the director's stronger abilities. The film is about a couple of college students who are squatting in an abandoned hospital. New to the crowd is Clark (Tanya Dempsey), a mathematics student looking for cheap housing since college proved to be on the expensive side. As soon as she shows up a lot of mysterious occurrences start up; strange ancient symbols appear on the walls and floors of the building, scary sounds throughout the hallways of the hospital and eventually people turning up either missing or dead. Shrieker actually has a rather strong flow to it, and I thought it built up a nice mystery along the way. Most of the characters aren't interesting, and I'm sure that most of the males in the film were selected because of DeCotaeu's love of muscular male skin in his films. But the film manages to make their predicament rather thrilling, and I liked the Scooby-Doo-like detective structure that the film contained. All of this seemed to be building up to a rather exciting finale. But the ending is where Shrieker lost me. It's amazing how the last 10 or 15 minutes of a film can break a film. The monster of the film was decently designed, but the film didn't develop it that well. I'm still not fully sure what exactly this creature is, or what its purpose was. The reveal at the end onto why this creature is stalking the hallways of this hospital wasn't that strong, and a major letdown considering the momentous build up. And the showdown between the final survivors and the monster was just pathetic. What a disappointment that Shrieker ended the way it does. There is a pretty good movie in there, but it appeared as if Full Moon ran out of ideas at the end of this one. Shrieker had the potential to become one of the best and most interesting films from Full Moon. But all that potential went to waste when the film closed itself out like some standard b-grade monster flick. You don't put that that much attention on the first 2/3rds of a film and close it out lazily like this one does.
Bryan Gomez
½
I used to watch this movie when I was a bit shocked. This movies was one of the movies that brought me to liking scary movies.
james davis
Shrieker Quotes
There are no approved quotes yet for this movie.
Discussion Forum
Discuss Shrieker on our Movie forum!