Shrunken Heads
(1994)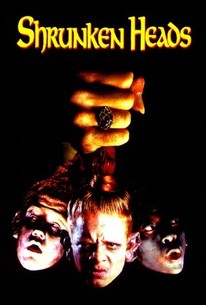 AUDIENCE SCORE
Critic Consensus: No consensus yet.
Movie Info
An enthusiastically brain-damaged outing from Charles Band's prolific B-Movie outfit Full Moon Entertainment, this cult-move manqué, directed by Oingo Boingo co-founder Richard Elfman (brother of composer Danny Elfman) is weird even by Full Moon's unique standards. The demented plot begins with a modern-day Bowery Boys-type bunch foiling a street gang's robbery scheme only to bring down the wrath of hilariously butch crime boss "Big Mo" (Meg Foster, complete with Elvis pompadour), who commands her chief axe-man to rub them out. Thanks to the voodoo skills of newsstand vendor Sumatra (Julius Harris), the three boys' severed heads are reanimated (it is never specified why this is all Sumatra could salvage) as tiny airborne mini-zombies with assorted super-powers. This leads to the inevitable blow-out between the Heads and Big Mo's legions, as well as one of the weirdest romantic subplots on record. Initially an abortive bid for midnight-movie infamy (much like the director's Forbidden Zone), this wacko twist on the basic comic-book superhero scenario has a playful nature that distances it from cult-horror territory but gives it a certain kooky charm; it features a main-title theme by the director's big-shot brother.
Critic Reviews for Shrunken Heads
All Critics (4) | Fresh (2) | Rotten (2)
A cult film with a slew of solid performances worthy of the watch just because it's so bad it's really quite tolerable...

Wacky, perverse little film of a type only Rick Elfman makes.

Mountain Xpress (Asheville, NC)
Audience Reviews for Shrunken Heads
Zombies with flatulence. The basic descriptions they have for the Zombies on the news pretty much makes it worth watching. Plus it's Danny Elfman and Richard Elfman, so how could you go wrong. You might actually be surprised who is in this one too.
Sarah Helwig
½
[center][img]http://www.stumpydisks.com/shrunken.jpg[/img] [left][font=Courier New][size=2]During the period between this past Christmas and New Year's Eve, FullMoonDirect.com featured a 50% sale on its box-sets and I decided to pick up a couple sets that I've been meaning to. While shopping through the site, I came across [i]Shrunken Heads[/i], a Full Moon feature I had never seen or heard of before. Reading the synopsis, the film seemed too weird to pass up on, so I added it to my order and awaited its arrival in the mail. The film is directed by Richard Elfman (brother of composer Danny Elfman), who also directed the bizarre little cult gem [i]Forbidden Zone[/i]. [i]Shrunken Heads[/i] is by far one of the weirdest Full Moon movies I have ever seen. And Richard Elfman's keen eye for the macabre went hand and hand with the film, and made [i]Shrunken Heads[/i] one of the more enjoyable films from this legendary studio. I guess since the movie featured kids as its main characters, I was expecting something tame. Something along the lines of Full Moon's kid friendly Moonbeam line of films. But [i]Shrunken Heads[/i] is anything but tame. The trio of heroes aren't in the film too long before they are senselessly gunned down. But don't fear, they are brought back to life by a Haitian voodoo priest... in the form of shrunken heads that is. Kind of a cruel thing to do to them, even if he felt they should seek revenge. From their, the film continued to surprise me. I guess I still expected the film to remain in a kid friendly zone, but it didn't. Instead, the shrunken head versions of the kids kill their murderers, in some grisly fashions. And their were even some zombies in the film for good measure, which is always a plus for me! The two standout performances from the film were Julius Harris as the Haitian voodoo priest Mr. Sumatra, and Meg Foster as gangster leader Big Moe (love that name). Both were over the top characters, but both actors slipped into their roles rather nicely. Both of them have earned places among my favorite Full Moon characters of all time. I was surprised with [i]Shrunken Heads[/i]. I expected it to be another disappointment from Full Moon, but I was happy to see that it wasn't. It has great music (with a theme provided by Danny Elfman), an interesting mix of different decades (the characters seem like they were a mix from the 80's, 60's and the 20's) and a truly strange story that works for me. [i]Shrunken Heads[/i] is one of Full Moon's best.[/size][/font] [/left] [/center]
Bryan Gomez
Another Full Moon classic, Shrunken Heads is the story of three boys in the city who hang out and read comic books, occasionally getting hassled by the town bullies who keep doing it enough to finally persuade the boys to fight back. First they get them thrown in jail after a failed carjacking, and then the boys steal they lotto slips from a mafia hideout (ran by don boss Meg Foster in a near unrecognizable role) and then the boys are shot dead. With the help of the newsstand/comic book seller Mr. Sumatra, who also poses as a Haitian Voodoo Priest, the boys are resurrected via shrunken heads. One can shoot electricity, another has vampire teeth, and the third and token brotha of the group got a god damn switchblade. This film has a total 50's vibe kids film, but gradually gets ballsy as the minutes go by. Yes, this movie is BEYOND bizarre, which you could credit to writer Matthew Bright and director Richard Elfman (brother to Danny) who both also made the equally bizarre Forbidden Zone. The film is total B-movie material that definitely shrieks Full Moon, and there is a little treat at the beginning in the form of a fun opening credit son composed by Danny Elfman. Silly film, but fun.
Jason Duron
Shrunken Heads Quotes
There are no approved quotes yet for this movie.
Discussion Forum
Discuss Shrunken Heads on our Movie forum!