Shy People
(1987)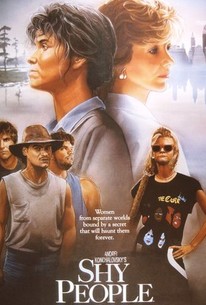 Movie Info
Writer Jill Clayburgh wants to remove her coke-addicted daughter Martha Plimpton from the corruptive environs of Manhattan. When assigned to write an article about family trees, Clayburgh, with daughter in tow, heads to the bayous of Louisiana, there to seek out an elusive great-uncle--and, it is hoped, to give Plimpton a new start in life. Upon their arrival in the deep south, Clayburgh and Plimpton are confronted with the uncle's rugged, iron-willed wife Barbara Hershey and her four grown sons. The anticipated culture clash results in tragedy for all concerned. Wavering between the plausible and the outrageous, Shy People makes for fascinating, almost mesmerizing viewing. Released late in 1987 to qualify for the Academy Awards, the film was given a general release in mid-1988.
Critic Reviews for Shy People
Audience Reviews for Shy People
barbara hersey is far better then the movie
Discussion Forum
Discuss Shy People on our Movie forum!